ﺧﻮد ﺷﮑﻮﻓﺎﯾﯽ و رﺿﺎﯾﺖ ﺷﻐﻠﯽ
ﻣﻌﻠﻤﺎن و دﺑﯿﺮان ﻣﺪارس در ﻧﻈﺎم ﺗﻌﻠﯿﻢ و ﭘﺮورش و داﺷﺘﻦ ﻧﺴﻠﯽ ﻓﺮﻫﯿﺨﺘﻪ ﻧﻘﺶ اﺳﺎﺳﯽ دارﻧﺪ.
اﻟﺒﺘﻪ رﺿﺎیتمندی ﺷﻐﻠﯽ ﻣﻌﻠﻤﺎن ﺗﺄﺛﯿﺮی ﻏﯿﺮﻗﺎﺑﻞ اﻧﮑﺎر ﺑﺮ وﻇﺎﯾﻒ آﻣﻮزﺷﯽ وﺗﺮﺑﯿﺘﯽ آنﻫﺎ دارد و رﺿﺎﯾﺖ ازﺷﻐﻞ ﻧﯿﺰ ﻣﺘﺎﺛﺮ از ﻋﻮاﻣﻞ ﮔﻮﻧﺎﮔﻮﻧﯽ اﺳﺖ.
ﺟﺎﻣﻌﻪ آﻣﺎری ﭘﮋوﻫﺶ ﺣﺎﺿﺮ ﮐﻠﯿﻪ دﺑﯿﺮان ﻧﺎﺣﯿﻪ 5 آﻣﻮزش و ﭘﺮورش ﺗﺒﺮﯾﺰ  و ﺣﺠﻢ ﻧﻤﻮﻧﻪ 183 ﻧﻔﺮ ﻣﯽ ﺑﺎﺷﺪ.
ﺑﺎ درﻧﻈﺮ داﺷﺘﻦ ﺗﺮﮐﯿﺒﯽ ازﻧﻈﺮﯾﻪﻫﺎی ﻣﺰﻟﻮ، ﺑﺮوﻓﯽ، ﻣﮏ ﮐﻠﻠﻨﺪ و ... و ﭘﯿﺸﯿﻨﻪ ﺗﺠﺮﺑﯽ ﺗﺤﻘﯿﻖ ﻣﺘﻐﯿﺮﻫﺎی ﻣﺴﺘﻘﻞ ﺗﺤﻘﯿﻖ اﺳﺘﺨﺮاج و راﺑﻄﻪ آنﻫﺎ ﺑﺎ
ﻣﺘﻐﯿﺮ واﺑﺴﺘﻪ ﻣﻮرد آزﻣﻮن ﻗﺮارﮔﺮﻓﺖ.
اﻫﺪاف ﮐﻠﯽ ﺗﺤﻘﯿﻖ ﺷﻨﺎﺧﺖ ﻣﯿﺰان رﺿﺎﯾﺖ ﺷﻐﻠﯽ دﺑﯿﺮان دﺑﯿﺮﺳﺘﺎنﻫﺎی ﻧﺎﺣﯿﻪ5 آﻣﻮزش و ﭘﺮورش ﺷﻬﺮﺗﺒﺮﯾﺰ وﺷﻨﺎﺳﺎﯾﯽ ﻣﻬﻢﺗﺮﯾﻦ ﻋﻮاﻣﻞ
ﻣﺆﺛﺮ ﺑﺮ ﻣﯿﺰان رﺿﺎﯾﺖ ﺷﻐﻠﯽ دﺑﯿﺮان اﯾﻦ ﻧﺎﺣﯿﻪ اﺳﺖ.
ﻧﺘﺎﯾﺞ ﻧﺸﺎن داد ﻣﯿﺎﻧﮕﯿﻦ رﺿﺎﯾﺖ ﺷﻐﻠﯽ دﺑﯿﺮان ﻣﻮرد ﻣﻄﺎﻟﻌﻪ در ﺣﺪ ﻣﻄﻠﻮﺑﯽ ﻣﯿﺎﻧﮕﯿﻦ 25/4 از 35 ﺑﻮده، ﻣﺤﯿﻂ ﻓﯿﺰﯾﮑﯽ ﮐﺎر0/ 69 و در ﺑﯿﻦ ﻣﺘﻐﯿﺮﻫﺎی
ﻣﻮرد ﻣﻄﺎﻟﻌﻪ ﺑﻪ ﺗﺮﺗﯿﺐ ﻣﺘﻐﯿﺮﻫﺎی ﺧﻮدﺷﮑﻮﻓﺎﯾﯽ0/33، راﺑﻄﻪ ﺑﺎ ﻫﻤﮑﺎران0/22، ﻣﺎﻫﯿﺖ ﺷﻐﻞ0/21و ﺣﻘﻮق و ﻣﺰاﯾﺎ0/17ﺑﺎ ﻣﺘﻐﯿﺮ واﺑﺴﺘﻪ راﺑﻄﻪ ﻣﻌﻨﺎ
داری داﺷﺘﻪ اﻧﺪ.
ﺑﯿﺎن ﻣﺴﺎﻟﻪ
ﻋﻼﻗﻪ ﺑﻪ ﻣﻮﺿﻮع رﺿﺎﯾﺖ ﺷﻐﻠﯽ ﺑﺎ ﺗﺤﻘﯿﻖ اﻟﺘﻮن ﻣﺎﯾﻮ ﮐﻪ در ﺷﻬﺮ ﻫﺎﺛﻮرن آﻣﺮﯾﮑﺎ و ﺷﺮﮐﺖ وﺳﺘﺮن اﻟﮑﺘﺮﯾﮏ اﻧﺠﺎم ﺷﺪ، ﺑﻪ وﺟﻮد آﻣﺪ.
رﺿﺎﯾﺖ ﺷﻐﻠﯽ ﮐﻪ در ﮔﺬﺷﺘﻪ ﻋﻤﺪﺗﺎً از ﻣﻄﻠﻮب ﺑﻮدن ﻣﻨﺎﻓﻊ ﻣﺎدی ﺣﺎﺻﻞ ﻣﯽﮔﺮدﯾﺪ ﺑﻪ ﻃﻮر ﻓﺰاﯾﻨﺪهای ﺗﻐﯿﯿﺮ ﺷﮑﻞ داد و ﺟﺎی ﺧﻮد را ﺑﻪ رﺿﺎﯾﺖ
ﺷﻐﻠﯽﮐﻪ رﯾﺸﻪی آن در ﺗﻨﺎﺳﺐ ﮐﺎر،ﻋﻼﻗﻪ ﺑﻪ ﮐﺎر و ﻣﻨﺰﻟﺖ اﺟﺘﻤﺎﻋﯽ ﮐﺎر ﺑﻮد، داده اﺳﺖ.
درﺣﺎل ﺣﺎﺿﺮ ﮐﺎر ﻓﻘﻂ وﺳﯿﻠﻪی ﺗﺎﻣﯿﻦ اﺣﺘﯿﺎﺟﺎت ﻣﺎدی ﻧﻤﯽﺑﺎﺷﺪ. ﻫﺮﭼﻨﺪﮐﻪ ﻫﻨﻮز درآﻣﺪ ﯾﮏ ﻋﺎﻣﻞ ﻣﻬﻢ اﺳﺖ وﻟﯽ اﻣﻨﯿﺖ ﺷﻐﻠﯽ و ﻣﺤﯿﻂﻫﺎی
اﻧﺴﺎﻧﯽﺗﺮ ﮐﺎر، روز ﺑﻪ روز اﻫﻤﯿﺖ ﭘﯿﺪا ﻣﯽﮐﻨﻨﺪ.
اﻧﺴﺎﻧﯽﮐﺮدن ﮐﺎر ﻓﻘﻂ ﻣﻔﻬﻮم ﻋﻮاﻣﻞ ارﮔﺎﻧﯿﮏ ﺗﻠﻔﯿﻖ ﻧﯿﺮوی اﻧﺴﺎﻧﯽ و ﻣﺎﺷﯿﻨﯽ را ﻧﻤﯽدﻫﺪ ﺑﻠﮑﻪ ﭘﻬﻨﻪای ﺑﺮای ﺧﻮدﺳﺎزی و ﻣﺸﺎرﮐﺖ درﺟﺮﯾﺎن
ﺗﺼﻤﯿﻢﮔﯿﺮیﻫﺎ اﺳﺖ.
ﺑﻌﻼوه ﮐﺎرﺳﺒﺐ ﻣﯽﺷﻮد ﮐﻪ ﺑﻌﻀﯽ از ﻧﯿﺎزﻫﺎی ﻣﻬﻢ اﻧﺴﺎن ﮐﻪ ﺑﺮﺧﺎﺳﺘﻪ از ﻋﻮاﻣﻞ ﻣﻬﻢ اﺟﺘﻤﺎﻋﯽ ﻫﺴﺘﻨﺪ ارﺿﺎء ﺷﻮد.
از ﺟﻤﻠﻪ ﻧﯿﺎز ﺑﻪ رﻗﺎﺑﺖ، ﻧﯿﺎز ﺑﻪ ﮐﺴﺐ ﻣﻬﺎرت، ﻧﯿﺎز ﺑﻪ ﻣﺸﺎرﮐﺖ در اﺟﺘﻤﺎﻋﺎت وﺳﯿﻊﺗﺮ، ﻧﯿﺎز ﺑﻪ ﭘﺮورش و ﺗﮑﺎﻣﻞ ﺷﺨﺼﯿﺖ ﺟﺰء ﻧﯿﺎزﻫﺎﯾﯽ ﻫﺴﺘﻨﺪ ﮐﻪ ﺑﺎ
ﮐﺎر ﮐﺮدن ﺑﺮﻃﺮف ﻣﯽﺷﻮد.
اﯾﻦ ﻣﻮﺿﻮع در راﺑﻄﻪ ﺑﺎ ﻣﻌﻠﻤﺎن ﻧﯿﺰ ﺻﺎدق اﺳﺖ. ﻣﻌﻠﻤﺎن از ﺗﺄﺛﯿﺮﮔﺬارﺗﺮﯾﻦ اﻗﺸﺎر ﻫﺮﺟﺎﻣﻌﻪای ﻫﺴﺘﻨﺪ ﮐﻪ ﻧﻮع ﻧﮕﺎه آنﻫﺎ ﺑﻪ ﺷﻐﻞ ﺷﺎن و رﺿﺎﯾﺖ از آن،
ﺑﺮ ﻋﻤﻠﮑﺮدﮐﺎری وﺣﺮﻓﻪای آﻧﺎن ﺑﺴﯿﺎرﻣﺆﺛﺮ اﺳﺖ.
ﺗﺎﻣﯿﻦ اﻗﺘﺼﺎدی ﻣﻌﻠﻢ ﺑﺎﻋﺚ ﻋﻼﻗﻪی ﺑﯿﺸﺘﺮﺑﻪ ﮐﺎرش ﻣﯽ ﺷﻮد و ﺗﻼش ﺧﻮاﻫﺪ ﮐﺮد ﺗﺎ ﻣﻄﺎﻟﻌﻪی ﺑﯿﺸﺘﺮ و ﺗﻨﻈﯿﻢ ﮐﺎر ﺑﻬﺘﺮی داﺷﺘﻪ ﺑﺎﺷﺪ.
ﺑﺎ ﮔﺬﺷﺖ زﻣﺎن اوﺿﺎع اﺟﺘﻤﺎﻋﯽ، اﻗﺘﺼﺎدی وﺳﯿﺎﺳﯽ دﮔﺮﮔﻮن ﻣﯽﺷﻮد و ﻧﯿﺎزﻫﺎی ﻣﺮدم ﺗﻐﯿﯿﺮ ﻣﯽﮐﻨﺪ؛ ﺑﻨﺎﺑﺮاﯾﻦ روشﻫﺎی آﻣﻮزﺷﯽ ﻫﻢ ﺑﺎ ﺗﻮﺟﻪ ﺑﻪ
ﻣﻘﺘﻀﯿﺎت اﺟﺘﻤﺎﻋﯽ ﺑﺎﯾﺪ ﺟﻮاﺑﮕﻮی ﻧﯿﺎزﻫﺎی ﺟﺎﻣﻌﻪ ﺑﺎﺷﺪ.
ﮔﺮوﻫﯽ ﮐﻪ ﻧﻘﺶ آﻣﻮزﺷﯽ (ﻣﻌﻠﻤﺎن) درﺟﺎﻣﻌﻪ را ﺑﺮﻋﻬﺪه دارﻧﺪ ﭼﻨﺎنﭼﻪ ﺑﻌﻠﻞ ﮔﻮﻧﺎﮔﻮﻧﯽ ﻧﺴﺒﺖ ﺑﻪ ﺷﻐﻞ ﺷﺎن اﺣﺴﺎس ﻋﺪم رﺿﺎﯾﺖ ﻧﻤﺎﯾﻨﺪ ﺿﺮﺑﻪ
ﺟﺒﺮانﻧﺎﭘﺬﯾﺮی ﺑﺮ ﺟﺎﻣﻌﻪ وارد ﻣﯽ ﺷﻮد و آﯾﻨﺪه ﺟﺎﻣﻌﻪ را ﺑﻪ ﺧﻄﺮ ﻣﯽ اﻧﺪازد.
ﺑﺮ اﯾﻦ اﺳﺎس در اﯾﻦ ﻣﻘﺎﻟﻪ در ﭘﯽ ﭘﺎﺳﺨﮕﻮﯾﯽ ﺑﻪ دو ﺳﻮال اﺳﺎﺳﯽ ﻫﺴﺘﯿﻢ رﺿﺎﯾﺖ ازﺷﻐﻞ ﻧﻤﻮﻧﻪ ﺗﺤﻘﯿﻖ ﺑﻪ ﭼﻪ ﻣﯿﺰاﻧﯽ اﺳﺖ و درﺑﯿﻦ ﻣﺘﻐﯿﺮﻫﺎی
ﻣﻮرد ﺑﺮرﺳﯽﮐﺪام ﯾﮏ ﺑﯿﺸﺘﺮﯾﻦ ﺗﺎﺛﯿﺮ را در رﺿﺎﯾﺖﻣﻨﺪی ﻧﻤﻮﻧﻪ ﺗﺤﻘﯿﻖ داﺷﺘﻪ اﺳﺖ؟
ﻣﺒﺎﻧﯽ ﻧﻈﺮی و ﺗﺠﺮﺑﯽ
در ﺗﺒﯿﯿﻦ و ﺳﻨﺠﺶ رﺿﺎﯾﺖ ﺷﻐﻠﯽ ﺗﻼشﻫﺎی زﯾﺎدی ازﺳﻮی ﺻﺎﺣﺐﻧﻈﺮان ﺻﻮرت ﮔﺮﻓﺘﻪ ﮐﻪ ﻧﺘﯿﺠﻪ آن اراﺋﻪ ﻧﻈﺮﯾﻪﻫﺎی ﻣﺨﺘﻠﻒ از ﺳﻮی آﻧﺎن ﺑﻮده اﺳﺖ.
ﺑﺎ ﺑﺮرﺳﯽ اﺟﻤﺎﻟﯽ ادﺑﯿﺎت ﻣﺮﺑﻮط ﺑﻪ رﺿﺎﯾﺖ ﺷﻐﻠﯽ، ﻣﯽ ﺗﻮان دو دﺳﺘﻪ ﻧﻈﺮﯾﻪ ﻫﺎی ﻣﺘﻔﺎوت را ﻣﻼﺣﻈﻪ ﻧﻤﻮد.
ﺑﺮﺧﯽ اﺳﺎﺳﺎً ﻣﺒﻨﺎی رﺿﺎﯾﺖ ﺷﻐﻠﯽ را ﺑﺮاﺳﺎس ارﺿﺎی ﻧﯿﺎزﻫﺎی دروﻧﯽ ﻓﺮد درﻣﺤﯿﻂ ﮐﺎر ﻗﺮار ﻣﯽ دﻫﻨﺪ. دراﯾﻦ ﮔﻮﻧﻪ ﻧﻈﺮﯾﻪ ﻫﺎ ﻓﺮض ﺑﺮ آن اﺳﺖﮐﻪ
ﻫﺮﭼﻪ ارﺿﺎی ﻧﯿﺎزﻫﺎی رواﻧﯽ ﻓﺮدﺑﯿﺸﺘﺮ ﺻﻮرت ﮔﯿﺮد وی راﺿﯽﺗﺮ و ﻣﻮﻟﺪﺗﺮ ﺧﻮاﻫﺪ ﺑﻮد.
ﺗﺌﻮری ﻫﺎی دﯾﮕﺮ ﺑﻪ ﺟﺎی آنﮐﻪ ﺑﺮای ﺗﺒﯿﯿﻦ رﺿﺎﯾﺖ ﺷﻐﻠﯽ ﺗﻨﻬﺎ ﺑﺮﻓﺮد ﻣﺘﻤﺮﮐﺰ ﺑﺎﺷﺪ ﺑﺮای ﺑﺎﻓﺖ ﺳﺎزﻣﺎن ﻧﯿﺰاﻫﻤﯿﺖ زﯾﺎدی ﻗﺎﺋﻞ ﻫﺴﺘﻨﺪ. اﯾﻦ ﻧﻈﺮﯾﻪﻫﺎ
ﺑﺨﺎﻃﺮآنﮐﻪ ﺷﺎﻣﻞ ﻓﺮآﯾﻨﺪﻫﺎی ﻧﺴﺒﺘﺎً ﺳﺎده-ای ﺑﺮای آﻏﺎز، ﺟﻬﺖ دﻫﯽ و اﺳﺘﻤﺮار رﺿﺎﯾﺖ ﺷﻐﻠﯽ ﻣﯽ ﺷﻮد از اﻫﻤﯿﺖ زﯾﺎدی ﺑﺮای ﻣﺪﯾﺮان ﺑﺮﺧﻮردار
اﺳﺖ
ﻫﻮﻣﻦ، درﻧﻈﺮﯾﻪ ﺳﻠﺴﻠﻪ ﻣﺮاﺗﺐ ﻣﺰﻟﻮ ﮐﻪ ﯾﮑﯽ از ﮐﺎرﺑﺮدی ﺗﺮﯾﻦ ﺗﺌﻮری ﻫﺎی ﺑﺮرﺳﯽ رﺿﺎﯾﺖ ﺷﻐﻠﯽ اﺳﺖ ﭘﻨﺞ ﻧﻮع از ﻧﯿﺎزﻫﺎی اﻧﺴﺎﻧﯽ ﻣﻄﺮح ﻣﯽ
ﺷﻮد ﮐﻪ
اﯾﻦ ﻧﯿﺎزﻫﺎ ﺑﻪ ﺗﺮﺗﯿﺐ اﻫﻤﯿﺖ و از ﭘﺎﺋﯿﻦ ﺑﻪ ﺑﺎﻻ ﻋﺒﺎرﺗﻨﺪ از:
ﻧﯿﺎزﻫﺎی ﻓﯿﺰﯾﻮﻟﻮژﯾﮏ، ﻧﯿﺎزﻫﺎیاﯾﻤﻨﯽ، ﻧﯿﺎزﻫﺎیاﺟﺘﻤﺎﻋﯽ، ﻧﯿﺎزﻫﺎیﺣﺮﻣﺖ و ﻧﯿﺎزﻫﺎیﺧﻮدﺷﮑﻮﻓﺎﯾﯽ.
اﯾﻦ ﻧﯿﺎزﻫﺎ ﺑﺎ ﺗﻮﺟﻪ ﺑﻪ ﺗﻔﺴﯿﺮ و ﺗﻄﺒﯿﻖ ﻟﻮﺳﯿﺮ ﺑﺎ ﻣﻘﺘﻀﯿﺎت ﺳﺎزﻣﺎﻧﯽ ﻣﻄﺎﺑﻖ ﺟﺪول زﯾﺮ ﻣﯽ ﺑﺎﺷﻨﺪ:
ﺟﺪول ﺷﻤﺎره1: ﺳﻠﺴﻠﻪ ﻣﺮاﺗﺐ ﻧﯿﺎزﻫﺎ، ﻋﻮاﻣﻞ ﺳﺎزﻣﺎﻧﯽ ارﺿﺎی آﻧﯽ از دﯾﺪﮔﺎه ﻟﻮﺳﯿﺮ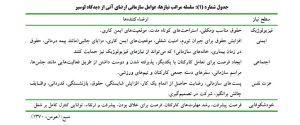 ﻣﮏ ﮐﻠﻠﻨﺪ ازﺟﻤﻠﻪ دﯾﮕﺮ ﺻﺎﺣﺐﻧﻈﺮاﻧﯽ اﺳﺖ ﮐﻪ ﻣﻄﺎﻟﻌﺎت و ﭘﮋوﻫﺶ ﻫﺎی ﺧﻮد را درﺑﺎره ﻧﯿﺎزﻫﺎی اﺳﺎﺳﯽ اﻓﺮاد اﻧﺴﺎﻧﯽ اﻧﺠﺎم داده و آنﻫﺎ را ﺑﻪ ﺳﻪ ﮔﺮوه ﺗﻘﺴﯿﻢ ﮐﺮده اﺳﺖ.
اﯾﻦ ﻧﯿﺎزﻫﺎ ﺑﻪ ﺑﺎور وی ﻋﺒﺎرﺗﻨﺪ از:
ﻧﯿﺎز ﺑﻪ ﻣﻮﻓﻘﯿﺖ، ﻧﯿﺎز ﺑﻪ ﻗﺪرت و ﻧﯿﺎز ﺑﻪ واﺑﺴﺘﮕﯽ. اﻟﺒﺘﻪ در اﯾﻦ ﻣﯿﺎن ﺗﺤﻘﯿﻘﺎت ﻣﮏ ﮐﻠﻠﻨﺪ در زﻣﯿﻨﻪ ﻧﯿﺎز ﺑﻪ ﮐﺴﺐ ﻣﻮﻓﻘﯿﺖ ازاﻫﻤﯿﺖ ﺑﯿﺸﺘﺮی ﺑﺮﺧﻮردار
اﺳﺖ.
وی ﻣﻌﺘﻘﺪ اﺳﺖ ﺷﺨﺺ ﻫﻨﮕﺎﻣﯽ ﻋﻤﻼً ﺑﻪ ﺳﻄﻮح ﺑﺎﻻﯾﯽ از ﺑﺎزده و ﮐﺎراﯾﯽ ﻧﺎﯾﻞ ﻣﯽ ﮔﺮدد ﮐﻪ اﻧﮕﯿﺰه ﮐﺴﺐ ﻣﻮﻓﻘﯿﺖ و ﭘﯿﺸﺮﻓﺖ در او ﺑﻪ وﺟﻮد آﻣﺪه
ﺑﺎﺷﺪ، ﺑﻪ ﻋﺒﺎرﺗﯽ ﻫﺮ ﭼﻪ ﻧﯿﺎز ﻓﺮد ﺑﻪ ﮐﺴﺐ ﻣﻮﻓﻘﯿﺖ ﻗﻮیﺗﺮ و ﺷﺪﯾﺪﺗﺮ ﺑﺎﺷﺪ ﮐﻤﯿﺖ و ﮐﯿﻔﯿﺖ ﮐﺎر او ﻧﯿﺰ در ﺳﻄﺢ ﺑﺎﻻﺗﺮی ﻗﺮار ﺧﻮاﻫﺪ ﮔﺮﻓﺖ.
ﭼﻨﺎنﭼﻪ ﺑﺘﻮان اﯾﻦ اﻧﮕﯿﺰه را در اﻓﺮاد ﻓﻌﺎل ﮐﺮد ﻗﻄﻌﺎً ﮐﺎراﯾﯽ ﻓﺮد و ﺳﺎزﻣﺎن اﻓﺰاﯾﺶ ﭘﯿﺪا ﻣﯽ ﮐﻨﺪ.
ﺑﺮ اﺳﺎس اﯾﻦ ﺗﺌﻮری ﻣﺪﯾﺮ ﺑﺎﯾﺴﺘﯽ ﺗﻮاﻧﺎﯾﯽ و اﺳﺘﻌﺪادﻫﺎی ﮐﺎرﮐﻨﺎن را ﺑﺮای آنﻫﺎ ﺑﺸﻨﺎﺳﺎﻧﺪ و اﯾﻦ ﮐﺎر ﻣﻌﻤﻮﻻً ﺑﺎ ﻫﺪاﯾﺖ وآﻣﻮزش اﻓﺮاد ﺣﺎﺻﻞ ﻣﯽ
ﺷﻮد.
ﻣﮏ ﮐﻠﻠﻨﺪ ﻧﺸﺎن دادﮐﻪ ﻣﺪﯾﺮان ﻣﯽ ﺗﻮاﻧﻨﺪ ﺑﺎ اﯾﺠﺎد ﻣﺤﯿﻂ ﮐﺎری ﻣﻨﺎﺳﺐ از ﻗﺒﯿﻞ اﻋﻄﺎی اﺳﺘﻘﻼل، اﻓﺰاﯾﺶ ﻣﺴﺌﻮﻟﯿﺖ، دادن ﺑﺎزﺧﻮرد ﺑﻪ ﻋﻤﻠﮑﺮد
ﭘﺮﺳﻨﻞ، اﻋﻄﺎی آزادی ﻋﻤﻞ دراﻧﺠﺎم ﮐﺎر، ﺗﻐﯿﯿﺮ ﻃﺮح ﺷﻐﻞ ﺗﻮﺳﻌﻪ ﺷﻐﻞ، اﻧﮕﯿﺰه ﮐﺴﺐ ﻣﻮﻓﻘﯿﺖ و در ﻧﺘﯿﺠﻪ رﺿﺎﯾﺖ از ﺷﻐﻞ را در ﮐﺎرﮐﻨﺎن و ﮐﺎرﮔﺮان
ﺑﻮﺟﻮد آورﻧﺪ.
در ﺗﺌﻮریﮐﻪ ﺗﻮﺳﻂ آداﻣﺰ ﻣﻄﺮح و ﺑﻪ ﻧﻈﺮﯾﻪ »ﺑﺮاﺑﺮی« ﻣﻌﺮوف ﺷﺪه اﺳﺖ ﺑﺮﺟﻨﺒﻪ دﯾﮕﺮی ازﻋﻮاﻣﻞ ﻣﻮﺛﺮ ﺑﺮ رﺿﺎﯾﺖ ﺷﻐﻠﯽ ﺗﺎﮐﯿﺪ ﺷﺪه اﺳﺖ.
ﺑﻪ ﺑﺎورآداﻣﺰ رﺿﺎﯾﺖ ﺣﺎﺻﻞ و ﻧﺘﯿﺠﻪ رﻓﺘﺎری اﺳﺖ ﮐﻪ در ﻣﻘﺎﯾﺴﻪ ﺑﺎ دﯾﮕﺮان ﻧﺴﺒﺖ ﺑﻪ ﻣﺎ اﻧﺠﺎم ﻣﯽ ﮔﯿﺮد. اﻋﻀﺎ و ﮐﺎرﮐﻨﺎن ﺳﺎزﻣﺎن در ﺧﻼء ﮐﺎر ﻧﻤﯽ
ﮐﻨﻨﺪ.
آﻧﺎن ﻫﻤﻮاره ﺧﻮد را ﺑﺎ دﯾﮕﺮان ﻣﻘﺎﯾﺴﻪ ﻣﯽ ﮐﻨﻨﺪ ﻣﺒﻨﺎی ﻣﻘﺎﯾﺴﻪ دﯾﮕﺮی ﻣﻤﮑﻦ اﺳﺖ ﯾﮑﯽ ازاﻋﻀﺎی ﻫﻤﺎن ﮔﺮوه ﮐﺎری ﺑﺎﺷﺪ و ﯾﺎ ﺷﺨﺺ دﯾﮕﺮی در دﯾﮕﺮ
ﺑﺨﺶ ﻫﺎی ﺳﺎزﻣﺎن و ﯾﺎ ﺣﺘﯽ ﻣﺠﻤﻮﻋﻪای از اﺷﺨﺎص در ﺳﺮﺗﺎﺳﺮ ﺳﺎزﻣﺎن.
ﺑﻌﺪاز ارزﯾﺎﺑﯽ ﻧﺤﻮه ﺑﺮﺧﻮرد ﺳﺎزﻣﺎن ﺑﺎ ﺷﺨﺺو دﯾﮕﺮی، ﻧﺘﯿﺠﻪ ارزﯾﺎﺑﯽ ﻫﺎ ﺑﺎ ﯾﮑﺪﯾﮕﺮ ﻣﻘﺎﯾﺴﻪ ﻣﯽ ﺷﻮد وﺷﺨﺺ ﻣﻮﻗﻌﯿﺖ ﺧﻮدرا ﺑﺎ ﻣﻮﻗﻌﯿﺖ دﯾﮕﺮی
ﻣﻘﺎﯾﺴﻪ ﻣﯽ ﮐﻨﺪ.
ﭘﯿﺎﻣﺪاﯾﻦ ﻣﻘﺎﯾﺴﻪ ﺑﺮای ﺷﺨﺺ ﻣﻤﮑﻦ اﺳﺖ اﺣﺴﺎس ﺑﺮاﺑﺮی ﯾﺎ ﻧﺎﺑﺮاﺑﺮی ﺑﺎﺷﺪ.
آداﻣﺰ ﻓﺮاﯾﻨﺪ ﻣﻘﺎﯾﺴﻪ ﺑﺮاﺑﺮی را ﺑﺮ ﺣﺴﺐ ﻧﺴﺒﺖ ﻫﺎی ورودی و ﺧﺮوﺟﯽ ﺗﻮﺻﯿﻒ ﻣﯽ ﮐﻨﺪ.
داده ﻫﺎ، ﯾﻌﻨﯽ آنﭼﻪ ﻓﺮد ﺑﻪ ﺳﺎزﻣﺎن ﻣﯽ دﻫﺪ، ﻣﺎﻧﻨﺪ ﺗﺤﺼﯿﻼت، ﺗﺠﺮﺑﻪ، ﮐﻮﺷﺶ و وﻓﺎداری. ﺳﺘﺎده ﻫﺎ، درﯾﺎﻓﺘﯽ ﻓﺮد را ازﺳﺎزﻣﺎن درﻗﺒﺎل داده ﻫﺎ
ﻧﺸﺎن ﻣﯽ دﻫﺪ، ﻣﺎﻧﻨﺪ ﺣﻘﻮق ودﺳﺘﻤﺰد، ﺷﻬﺮت، رواﺑﻂ اﺟﺘﻤﺎﻋﯽ و ﭘﺎداش ﻫﺎی دروﻧﯽ. ﺑﺨﺸﯽ از ارزﯾﺎﺑﯽ داده ﻫﺎ وﺳﺘﺎده ﻫﺎی ﺧﻮد و دﯾﮕﺮی، ﺑﻪ
وﺳﯿﻠﻪ ﻓﺮد ﺑﺮ ﭘﺎﯾﻪ ﻣﺸﺎﻫﺪه ﻫﺎیﻋﯿﻨﯽﻣﺜﻼً ﺣﻘﻮق ﻓﺮد وﺑﺨﺶ دﯾﮕﺮ، ﺑﺮادراك ﻓﺮد اﺳﺘﻮاراﺳﺖ.
راﺑﻄﻪ زﯾﺮ ﻧﻤﺎﯾﺎﻧﮕﺮ ﻣﻘﺎﯾﺴﻪ ﺑﺮاﺑﺮی اﺳﺖ.

ﺷﺨﺺ ﻧﺴﺒﺖ ﺳﺘﺎده ﺑﻪ داده ﺧﻮد را ﺑﺎ ﻧﺴﺒﺖ ﺳﺘﺎده ﺑﻪ داده دﯾﮕﺮی ﻣﻘﺎﯾﺴﻪ ﻣﯽ ﮐﻨﺪ:
در ﻧﻈﺮﯾﻪ ﺑﺮاﺑﺮی ﮔﻔﺘﻪ ﻣﯽ ﺷﻮدﮐﻪ ﮐﺎرﮐﻨﺎن و اﻋﻀﺎی ﺳﺎزﻣﺎن درﺻﻮرت اﺣﺴﺎس اﺟﺤﺎف ﻧﺴﺒﺖ ﺑﻪ ﺧﻮد ﻣﻤﮑﻦ اﺳﺖ، از ﻣﯿﺰان ﻓﻌﺎﻟﯿﺖ ﺧﻮد ﺑﮑﺎﻫﻨﺪ ﯾﺎ
ﻣﯿﺰان ﻣﺼﺮﻓﯽ ﺧﻮد و دﯾﮕﺮان  و ﻧﯿﺰ ﺑﺎزده را ﻣﺨﺪوش ﯾﺎ ﻣﺨﺘﻞ  ﮐﻨﻨﺪ.
ﺑﻪ ﮔﻮﻧﻪ ای رﻓﺘﺎر ﮐﻨﻨﺪ ﮐﻪ دﯾﮕﺮان ﺑﻪ ﮐﻢﮐﺎری ﺗﺸﻮﯾﻖ ﺷﻮﻧﺪ، از ﻣﯿﺰان ﻣﺼﺮف ﺧﻮد داده ﻫﺎ و ﺑﺎزدﻫﯽ ﻫﺎ ﺑﮑﺎﻫﻨﺪ، ﻣﺮﺟﻊ ﯾﺎ آنﭼﻪ ﺷﺨﺺ ﺧﻮد را ﺑﺎ آن
ﻣﻘﺎﯾﺴﻪ ﻣﯽ ﮐﻨﺪ ﺗﻐﯿﯿﺮ ﻣﯽ دﻫﻨﺪ و ﯾﺎ آنﮐﻪ ﺳﺎزﻣﺎن را ﺗﺮك  ﮐﻨﻨﺪ.
ﻣﻬﻢ ﺗﺮﯾﻦ ﮐﺎرﺑﺮدﻧﻈﺮﯾﻪ ﺑﺮاﺑﺮی ﺑﺮای ﻣﺪﯾﺮان، ﺑﻪ ﭘﺎداشﻫﺎی ﺳﺎزﻣﺎن وﻧﻈﺎمﻫﺎی ﭘﺎداش ﻣﺮﺑﻮط ﻣﯽ ﺷﻮد. ازآن ﺟﺎﯾﯽﮐﻪ ﭘﺎداشﻫﺎی رﺳﻤﯽ  ﺳﺎزﻣﺎﻧﯽ
ﻣﺎﻧﻨﺪ ﻣﯿﺰان ﺣﻘﻮق و ﻧﻮع وﻇﺎﯾﻒ ﺑﯿﺶ ازﭘﺎداشﻫﺎی ﻏﯿﺮ رﺳﻤﯽ در رﺿﺎﯾﺖ دروﻧﯽ ﻓﺮد ﻣﺆﺛﺮ واﻗﻊ ﻣﯽ ﺷﻮﻧﺪ، ﻣﻘﺎﯾﺴﻪ ﻫﺎی اﺟﺘﻤﺎﻋﯽ ﻧﯿﺰ ﻋﺎﻣﻞ
ﻗﺪرتﻣﻨﺪی در ﻣﺤﯿﻂ ﮐﺎری ﺑﻪ ﺣﺴﺎب ﻣﯽ آﯾﻨﺪﻫﻤﺎن.
ﺑﺮوﻓﯽ از دﯾﮕﺮ اﻧﺪﯾﺸﻤﻨﺪان ﻣﺴﺎﯾﻞ ﺳﺎزﻣﺎﻧﯽ، در ﻧﻈﺮﯾﻪ اﻧﺘﻈﺎر ﺑﯿﺎن ﻣﯽ دارد ﭼﻨﺎن ﭼﻪ اﻧﺘﻈﺎرات ﻓﺮد از ﺷﻐﻞاش ﺧﯿﻠﯽ زﯾﺎد ﺑﺎﺷﺪ، رﺿﺎﯾﺖ ﺷﻐﻠﯽ
ﻣﻌﻤﻮﻻً دﯾﺮﺗﺮ و ﻣﺸﮑﻞﺗﺮ ﺣﺎﺻﻞ ﻣﯽ ﺷﻮد.
ﻣﺜﻼً ﻣﻤﮑﻦ اﺳﺖ ﻓﺮدی درﺻﻮرﺗﯽ از ﺷﻐﻞ اش راﺿﯽ ﺷﻮد ﮐﻪ ﺑﺘﻮاﻧﺪ ﺑﻪ ﺗﻤﺎم اﻧﺘﻈﺎرات ﺗﻌﯿﯿﻦ ﺷﺪه ﺧﻮد از ﻃﺮﯾﻖ اﺷﺘﻐﺎل ﺟﺎﻣﻪ ﻋﻤﻞ ﺑﭙﻮﺷﺎﻧﺪ.
ﺑﯽ ﺗﺮدﯾﺪ ﭼﻨﯿﻦ ﻓﺮدی ﺑﻪ ﻣﺮاﺗﺐ دﯾﺮﺗﺮ ازﻓﺮدیﮐﻪ ﮐﻤﺘﺮﯾﻦ اﻧﺘﻈﺎرات را از ﺷﻐﻞاش دارد، ﺑﻪ رﺿﺎﯾﺖ ﺷﻐﻠﯽ دﺳﺖ ﺧﻮاﻫﺪ ﯾﺎﻓﺖ.
ﺑﻨﺎﺑﺮاﯾﻦ، رﺿﺎﯾﺖ ﺷﻐﻠﯽ، ﻣﻔﻬﻮﻣﯽ ﮐﺎﻣﻼً ﯾﮑﺘﺎ و اﻧﻔﺮادی اﺳﺖ و در ﻣﻮرد ﻫﺮ ﻓﺮد ﺑﻪ ﻃﻮر ﺟﺪاﮔﺎﻧﻪ ﺑﺎﯾﺪ ﻋﻮاﻣﻞ، ﻣﯿﺰان و ﻧﻮع آن ﻣﻮرد ﺑﺮرﺳﯽ ﻗﺮار ﮔﯿﺮد.
اﯾﻦ ﻧﻈﺮﯾﻪ ﺷﺎﻣﻞ ﺳﻪ ﻣﺘﻐﯿﺮ ﯾﺎ راﺑﻄﻪ ﻣﯽ ﺷﻮد، ﮐﻪ از اﯾﻦ ﻗﺮارﻧﺪ:
1) راﺑﻄﻪ ﺑﯿﻦ ﺗﻼش وﻋﻤﻠﮑﺮد ﻓﺮد، درﺟﻪ ﯾﺎ ﻣﯿﺰاﻧﯽﮐﻪ ﭘﺎداشﻫﺎی ﺳﺎزﻣﺎﻧﯽ ﻣﯽ ﺗﻮاﻧﻨﺪ ﻧﯿﺎزﻫﺎ ﯾﺎﻫﺪفﻫﺎی  ﺷﺨﺼﯽ ﻓﺮد را ﺗﺄﻣﯿﻦ ﮐﻨﻨﺪ و ﻫﻢﭼﻨﯿﻦ ﻣﯿﺰان ﺟﺬاﺑﯿﺖ ﯾﺎ ﺟﺎﻟﺐ ﺑﻮدن ﭘﺎداشﻫﺎ.
2) راﺑﻄﻪ ﺑﯿﻦ ﻋﻤﻠﮑﺮد و ﭘﺎداش، ﻣﯿﺰان ﯾﺎ ﺣﺪود ﺑﺎور ﻓﺮد، ﻣﺒﻨﯽ ﺑﺮ اﯾﻦﮐﻪ ﺳﻄﺢ ﻣﻌﯿﻨﯽ از ﮐﺎر ﺑﻪ ﻧﺘﯿﺠﻪ، دﺳﺘﺎورد ﯾﺎ ﭘﺎداش ﻣﻮرد ﻧﻈﺮ ﻣﯽ اﻧﺠﺎﻣﺪ.
3) راﺑﻄﻪ ﺑﯿﻦ ﭘﺎداش و اﻫﺪاف ﺷﺨﺼﯽ از دﯾﺪﮔﺎه ﯾﺎ ﻧﻈﺮ ﻓﺮد، ﻣﻘﺪار ﮐﻮﺷﺶ ﯾﺎ ﺗﻼﺷﯽ ﮐﻪ اﺣﺘﻤﺎﻻً ﺑﻪ ﻋﻤﻠﮑﺮد ﻣﻌﯿﻨﯽ ﺑﯿﻨﺠﺎﻣﺪ.
در ﻧﻈﺮﯾﻪ اﻧﺘﻈﺎر اﻋﺘﻘﺎد ﺑﺮ آﻧﺴﺖ ﮐﻪ اﻧﮕﯿﺰش، ﺣﺎﺻﻞ ﺿﺮب ﺳﻪ ﻣﺘﻐﯿﺮ ﯾﺎد ﺷﺪه اﺳﺖ. ﺑﻨﺎﺑﺮاﯾﻦ، ﻫﻨﮕﺎﻣﯽ  ﮐﻪ ﻣﻘﺪار ﻫﺮﺳﻪ ﻣﺘﻐﯿﺮ ﺑﺎﻻ ﺑﺎﺷﺪ، اﻧﮕﯿﺰش
ﻧﯿﺰ ﺑﺎﻻ ﺧﻮاﻫﺪ ﺑﻮد. ﺑﻌﻼوه، ﻫﺮﮔﺎه ﻣﻘﺪار ﯾﮑﯽ از ﺳﻪ ﻣﺘﻐﯿﺮ ﻣﺬﮐﻮر ﺻﻔﺮ ﺑﺎﺷﺪ. ﺳﻄﺢﮐﻠﯽ اﻧﮕﯿﺰش ﻧﯿﺰﺻﻔﺮ ﺧﻮاﻫﺪ ﺷﺪ.
ازاﯾﻦ رو، ﺣﺘﯽ اﮔﺮﮐﺎرﻣﻨﺪی اﻋﺘﻘﺎد داﺷﺘﻪ ﺑﺎﺷﺪ ﮐﻪ ﺗﻼش وی ﻣﻨﺠﺮ ﺑﻪ ﻋﻤﻠﮑﺮد ﺧﻮاﻫﺪ ﺷﺪ وﻋﻤﻠﮑﺮد وی ﻣﻨﺠﺮ ﺑﻪ اراﺋﻪ ﭘﺎداشﻫﺎﯾﯽ ﺑﻪ وی ﻣﯽ ﺷﻮد،
ﭼﻨﺎنﭼﻪ ﺟﺬاﺑﯿﺖ و ارزش ﭘﺎداﺷﯽﮐﻪ وی اﻧﺘﻈﺎردرﯾﺎﻓﺘﺶ را دارد، ﺻﻔﺮ ﺑﺎﺷﺪ، اﻧﮕﯿﺰش ﻧﯿﺰﺻﻔﺮﺧﻮاﻫﺪ ﺑﻮد ﻫﺮزﺑﺮگ (ﻧﻈﺮﯾﻪ دوﻋﺎﻣﻠﯽ) ﺧﻮد را درﺑﯿﻦ
ﺳﺎلﻫﺎی 1950 ﺗﺎ 1960 اراﺋﻪ داد.
وی ﻧﺸﺎن داد ﮐﻪ ﻣﺎﻫﯿﺖ و ﺧﻮدﮐﺎر، ﻣﻨﺎﺑﻊ ﻣﻬﻤﯽ  در رﺿﺎﯾﺖ ﺷﻐﻠﯽ ﻫﺴﺘﻨﺪ. دراﯾﻦ دﯾﺪﮔﺎه رﺿﺎﯾﺖ واﻗﻌﯽ ازﺷﻐﻞ ﺑﺎ ﺗﻔﻮﯾﺾ ﻣﺴﺌﻮﻟﯿﺖ-ﻫﺎی ﮐﺎﻓﯽ
ﺑﻪ اﻓﺮاد وﭼﺎﻟﺶدار ﺑﻮدن ﺷﻐﻞ ﺑﺪﺳﺖ ﻣﯽ آﯾﺪ.
ﺑﺴﯿﺎری ازﻣﺪﯾﺮان ﺑﺎ ﺗﻮﺟﻪ ﺑﻪ ﻧﺘﺎﯾﺞ اﯾﻦ ﭘﮋوﻫﺶ ﻫﺎ ﺑﻪ ﻃﺮاﺣﯽ ﻣﺠﺪد ﻣﺸﺎﻏﻞ ﭘﺮداﺧﺘﻨﺪ و ﻣﺸﺎﻏﻞ را از ﺣﺎﻟﺖ ﺗﮑﺮاری و ﺳﺎده ﺑﻪ ﻣﺸﺎﻏﻠﯽ ﻓﻨﯽ و ﭘﺮ
ﻣﺤﺘﻮا ﺗﻐﯿﯿﺮ داده و ﺑﺮای ﮐﺎرﮐﻨﺎن، آزادی، ﮐﻨﺘﺮل و ﻣﺴﺌﻮﻟﯿت ادارهی ﻧﻘﺶ را ﻓﺮاﻫﻢ ﮐﺮده اﻧﺪ.
ﻋﻼوه ﺑﺮ ﺗﺌﻮری ﻫﺎی ﻣﻮرد اﺷﺎره، ﺗﺤﻘﯿﻘﺎت ﻣﺨﺘﻠﻒ ﺧﺎرﺟﯽ و داﺧﻠﯽ ﻧﯿﺰ ﻣﺮﺗﺒﻂ ﺑﺎ ﺣﻮزه رﺿﺎﯾﺖ ﺷﻐﻠﯽ وﺟﻮد دارد ﮐﻪ ﻣﺤﻘﻖ ﻣﺴﺎﯾﻞ ﺳﺎزﻣﺎﻧﯽ را ﻣﯽ
ﺗﻮاﻧﺪ درﻓﻬﻢ و ﺷﻨﺎﺳﺎﯾﯽ ﻣﺘﻐﯿﺮﻫﺎی ﻣﻮﺛﺮ ﺑﺮ رﺿﺎﯾﺖ ﺷﻐﻠﯽ ﯾﺎری ﻧﻤﺎﯾﯿﺪ.
در اداﻣﻪ ﺑﻪ ﭼﻨﺪ ﻣﻮرد از اﯾﻦ ﺗﺤﻘﯿﻘﺎت اﺷﺎره ﻣﯽ ﺷﻮد:
درﺗﺤﻘﯿﻘﯽ ﺑﺎ ﻋﻨﻮان ﺑﺮرﺳﯽ راﺑﻄﻪ ﻣﯿﺎن اﻧﮕﯿﺰهی ﺷﻐﻠﯽ ﻣﺪﯾﺮان، رﺿﺎﯾﺖ ﺷﻐﻠﯽ و ﺗﻌﻬﺪ ﺳﺎزﻣﺎﻧﯽ دﺑﯿﺮان ﻣﻘﻄﻊ ﻣﺘﻮﺳﻄﻪی ﺷﻬﺮﺳﺘﺎن ﻣﺮودﺷﺖ
ﮐﻪ ﺗﻮﺳﻂ ﻣﺤﻤﻮد ﺳﺎﻋﺘﭽﯽ وﻫﻤﮑﺎراﻧﺶ اﻧﺠﺎم ﯾﺎﻓﺘﻪ اﺳﺖ ﻣﺸﺨﺺﮔﺮدﯾﺪﮐﻪ ﺑﯿﻦ اﻧﮕﯿﺰه ﻣﺪﯾﺮان و رﺿﺎﯾﺖ ﺷﻐﻠﯽ ﺑﺎﺗﻌﻬﺪ ﺳﺎزﻣﺎﻧﯽ راﺑﻄﻪای ﻣﻌﻨﺎدار
وﺟﻮد دارد
در ﺗﺤﻘﯿﻖ ﺑﺨﺘﯿﺎری ﻧﺼﺮآﺑﺎدی و ﻫﻤﮑﺎراﻧﺸﺎنﮐﻪ در ﺳﺎل 1384 در ﺑﯿﻦ ﮐﺎرﮐﻨﺎن ذوب آﻫﻦ اﺻﻔﻬﺎن اﻧﺠﺎم ﮔﺮﻓﺘﻪ ﺑﯿﻦ ارزش ﮐﺎر، اﺳﺘﻘﻼل، ﻓﺮﺻﺖﻫﺎی
ﺷﻐﻠﯽ، اﻣﮑﺎﻧﺎت ﺷﻐﻠﯽ و ﭼﺎﻟﺶ ﺷﻐﻠﯽ ﺑﺎ رﺿﺎﯾﺖ ﺷﻐﻠﯽ ﮔﺮوهﻫﺎی ﻣﻮرد ﻣﻄﺎﻟﻌﻪ راﺑﻄﻪی ﻣﻌﻨﺎدار و ﻣﺜﺒﺖ وﺟﻮد داﺷﺘﻪ اﺳﺖ.
در ﺗﺤﻘﯿﻖ اﯾﺴﭙﺎ ﺑﺎﻋﻨﻮان ﺑﺮرﺳﯽ رﺿﺎﯾﺖ ﺷﻐﻠﯽ ﮐﺎرﮐﻨﺎن ﺑﺎﻧﮏ ﺻﻨﻌﺖ و ﻣﻌﺪن ﻣﺤﻘﻘﯿﻦ ﻣﺘﻐﯿﺮﻫﺎی ﺳﺎزﻣﺎﻧﯽ ﻫﻢﭼﻮن ﺷﺮاﯾﻂ ﻓﯿﺰﯾﮑﯽ ﻣﺤﯿﻂ ﮐﺎر،
اﻣﮑﺎﻧﺎت رﻓﺎﻫﯽ و ﻣﺸﺎرﮐﺖ را ﻣﻬﻢﺗﺮﯾﻦ ﻣﺘﻐﯿﺮﻫﺎی ﻣﻮﺛﺮ ﺑﺮ رﺿﺎﯾﺖ ﺷﻐﻠﯽ ﮐﺎرﮐﻨﺎن اﯾﻦ ﺑﺎﻧﮏ ﻣﻌﺮﻓﯽ ﻧﻤﻮده اﻧﺪ.
درﭘﮋوﻫﺸﯽ دﯾﮕﺮ ﺑﺎ ﻋﻨﻮان ﺑﺮرﺳﯽ ﺗﺎﺛﯿﺮ ﻋﻮاﻣﻞ دروﻧﯽ و ﺑﯿﺮوﻧﯽ ﺑﺮ رﺿﺎﯾﺖ ﺷﻐﻠﯽ و ﺳﻼﻣﺖ رواﻧﯽ و ﺟﺴﻤﺎﻧﯽ ﮐﺎرﮐﻨﺎن ﺷﺮﮐﺖ ﮔﺎزاﺳﺘﺎن آذرﺑﺎﯾﺠﺎن
ﺷﺮﻗﯽ ﻣﺸﺨﺺ ﺷﺪ ﮐﻪ اﺳﺘﺮس ﺷﻐﻠﯽ درﺗﺒﯿﯿﻦ رﺿﺎﯾﺖ ﺷﻐﻠﯽ ﻧﻘﺶ ﺑﺎرزﺗﺮی ﻧﺴﺒﺖ ﺑﻪ وﯾﮋﮔﯽﻫﺎی ﺷﺨﺼﯿﺘﯽ داﺷﺘﻪ اﺳﺖ و درﺗﺒﯿﯿﻦ
ﺳﻼﻣﺘﯽﻫﻢ ﻣﺸﺨﺺ ﺷﺪﮐﻪ اﺳﺘﺮس ﺷﻐﻠﯽ و رﺿﺎﯾﺖ ﺷﻐﻠﯽ ﻧﺴﺒﺖ ﺑﻪ وﯾﮋﮔﯽﻫﺎی ﺷﺨﺼﯿﺘﯽ ﻧﻘﺶ ﻣﻬﻢﺗﺮی دارﻧﺪ.
اﻫﺪاف و ﻓﺮﺿﯿﻪﻫﺎ
ﻫﺪف اﺻﻠﯽ اﯾﻦ ﺗﺤﻘﯿﻖ ﺑﺮرﺳﯽ ﻣﯿﺰان رﺿﺎﯾﺖ ﺷﻐﻠﯽ دﺑﯿﺮان دﺑﯿﺮﺳﺘﺎنﻫﺎی ﻧﺎﺣﯿﻪ 5 ﺷﻬﺮ ﺗﺒﺮﯾﺰ وﻋﻮاﻣﻞ ﻣﺆﺛﺮ ﺑﺮ آن اﺳﺖ.
ﻓﺮﺿﯿﻪﻫﺎی ﺗﺤﻘﯿﻖ ﻧﯿﺰ ﺑﻪ ﺷﺮح زﯾﺮ ﺗﺪوﯾﻦ ﺷﺪ:
رﺿﺎﯾﺖ ﺷﻐﻠﯽ دﺑﯿﺮان ﺑﺮﺣﺴﺐ ﻣﺘﻐﯿﺮﻫﺎی ﺟﻨﺲ، وﺿﻌﯿﺖ ﺗﺄﻫﻞ، ﻧﻮع ﻣﺴﮑﻦ و وﺿﻌﯿﺖ اﺳﺘﺨﺪاﻣﯽ ﻣﺘﻔﺎوت اﺳﺖ
ﺑﯿﻦ ﻣﺘﻐﯿﺮﻫﺎی زﻣﯿﻨﻪای ﺳﻦ، ﺳﺎلﻫﺎی ﺧﺪﻣﺖ و ﻣﯿﺰان ﺗﺤﺼﯿﻼت ﺑﺎ ﻣﺘﻐﯿﺮ رﺿﺎﯾﺖ ﺷﻐﻠﯽ راﺑﻄﻪ ﻣﻌﻨﯽ داری وﺟﻮد دارد.
ﺑﯿﻦ ﻣﺘﻐﯿﺮ ﺧﻮدﺷﮑﻮﻓﺎﯾﯽ و ﻣﯿﺰان رﺿﺎﯾﺖ ﺷﻐﻠﯽ دﺑﯿﺮان راﺑﻄﻪ وﺟﻮد دارد.
ﺑﯿﻦ ﻣﺘﻐﯿﺮ ﻣﺎﻫﯿﺖ ﺷﻐﻞ و ﻣﯿﺰان رﺿﺎﯾﺖ ﺷﻐﻠﯽ دﺑﯿﺮان راﺑﻄﻪ وﺟﻮد دارد.
بین ﻣﺘﻐﯿﺮ ﺣﻘﻮق و ﻣﺰاﯾﺎ و ﻣﯿﺰان رﺿﺎﯾﺖ ﺷﻐﻠﯽ دﺑﯿﺮان راﺑﻄﻪ وﺟﻮد دارد.
بین ﻣﺘﻐﯿﺮ ﻣﺪﯾﺮﯾﺖ و ﻣﯿﺰان رﺿﺎﯾﺖ ﺷﻐﻠﯽ دﺑﯿﺮان راﺑﻄﻪ وﺟﻮد دارد.
ﺑﯿﻦ ﻣﺘﻐﯿﺮ ﻣﺤﯿﻂ ﻓﯿﺰﯾﮑﯽ ﮐﺎر و ﻣﯿﺰان رﺿﺎﯾﺖ ﺷﻐﻠﯽ دﺑﯿﺮان راﺑﻄﻪ وﺟﻮد دارد.
ﺑﯿﻦ ﻣﺘﻐﯿﺮ راﺑﻄﻪ ﺑﺎ ﻫﻤﮑﺎران و ﻣﯿﺰان رﺿﺎﯾﺖ ﺷﻐﻠﯽ دﺑﯿﺮان راﺑﻄﻪ وﺟﻮد دارد.
روشﺷﻨﺎﺳﯽ
ﺟﺎﻣﻌﻪ آﻣﺎری ﭘﮋوﻫﺶ ﮐﻠﯿﻪ دﺑﯿﺮاﻧﯽ ﻫﺴﺘﻨﺪ 114 ﻧﻔﺮ زن و 89 ﻧﻔﺮ ﻣﺮد ﮐﻪ در ﻣﻘﻄﻊ ﻣﺘﻮﺳﻄﻪ روزاﻧﻪ ﻋﻤﻮﻣﯽ ﻧﺎﺣﯿﻪ 5 ﺗﺒﺮﯾﺰ درﺳﺎل
ﺗﺤﺼﯿﻠﯽ 1389-90 ﻣﺸﻐﻮل ﺑﻪ ﺗﺪرﯾﺲ ﺑﻮده اﻧﺪ.
درﮐﻞ ﺗﻌﺪاد 376 ﻧﻔﺮ ﺟﺎﻣﻌﻪ آﻣﺎری را ﺗﺸﮑﯿﻞ دادﻧﺪ. از ﻃﺮﯾﻖ ﻓﺮﻣﻮل ﮐﻮﮐﺮان ﺗﻌﺪاد 183 ﻧﻔﺮ ﺑﻪ ﻋﻨﻮان ﺣﺠﻢ ﻧﻤﻮﻧﻪ اﻧﺘﺨﺎب ﺷﺪ.
از اﯾﻦ 183 ﻧﻔﺮ ﺳﻬﻢ دﺑﯿﺮان زن 114 ﻧﻔﺮ و ﺳﻬﻢ دﺑﯿﺮان ﻣﺮد 69 ﻧﻔﺮ ﻣﺤﺎﺳﺒﻪ ﺷﺪ. ﺑﺎ اﺳﺘﻔﺎده از روش ﻧﻤﻮﻧﻪﮔﯿﺮیﺳﻬﻤﯿﻪ ای ﺗﻌﺪاد ﻧﻤﻮﻧﻪ ﺑﺮای ﻫﺮ
ﺟﻨﺲ (ﻣﺮد و زن) و ﺑﺎ ﺗﻮﺟﻪ ﺑﻪ ﺗﻌﺪاد دﺑﯿﺮان ﻫﺮ دﺑﯿﺮﺳﺘﺎن ﻣﺤﺎﺳﺒﻪ ﺷﺪ.
اﯾﻦ ﺗﺤﻘﯿﻖ از ﻧﻮع ﭘﯿﻤﺎﯾﺸﯽ ﺑﻮده و از ﭘﺮﺳﺸﻨﺎﻣﻪ ﺑﺮای ﮔﺮدآوری اﻃﻼﻋﺎت اﺳﺘﻔﺎده ﺷﺪه اﺳﺖ.
ﻣﺘﻐﯿﺮ واﺑﺴﺘﻪ ﭘﮋوﻫﺶ (رﺿﺎﯾﺖ ﺷﻐﻠﯽ) و ﻣﺘﻐﯿﺮﻫﺎی ﻣﺴﺘﻘﻞ ﺗﺤﻘﯿﻖ:
(ﺧﻮدﺷﮑﻮﻓﺎﯾﯽ، ﻣﺎﻫﯿﺖ ﺷﻐﻞ، ﺣﻘﻮق و ﻣﺰاﯾﺎ، ﻣﺪﯾﺮﯾﺖ، ﻣﺤﯿﻂ ﻓﯿﺰﯾﮑﯽ ﮐﺎر) و ﻧﻮع راﺑﻄﻪ ﺑﺎ ﻫﻤﮑﺎران ﻣﯽﺑﺎﺷﻨﺪ.
ﻫﻢﭼﻨﯿﻦ ﻣﺘﻨﺎﺳﺐ ﺑﺎ ﺳﻄﺢ ﺳﻨﺠﺶ ﻣﺘﻐﯿﺮﻫﺎ از آﻣﺎرهﻫﺎی ﺗﻮﺻﯿﻔﯽ و اﺳﺘﻨﺒﺎﻃﯽ اﺳﺘﻔﺎده ﺷﺪ و آزﻣﻮنﻫﺎی ﻣﻮرد اﺳﺘﻔﺎده ﺑﺮای آزﻣﻮن
ﻓﺮﺿﯿﻪﻫﺎ ﺿﺮﯾﺐ ﻫﻤﺒﺴﺘﮕﯽ ﭘﯿﺮﺳﻮن و ﺗﻔﺎوت ﻣﯿﺎﻧﮕﯿﻦﻫﺎ ﻣﯽﺑﺎﺷﺪ.

ﯾﺎﻓﺘﻪﻫﺎ
ﯾﺎﻓﺘﻪﻫﺎی ﺗﻮﺻﯿﻔﯽ
ﺑﺮاﺳﺎس ﻧﺘﺎﯾﺞ 62/3 درﺻﺪ دﺑﯿﺮان ﻣﻮرد ﺑﺮرﺳﯽ زن و 37/7 درﺻﺪ ﻣﺮد ﺑﻮده اﻧﺪ. از ﻟﺤﺎظ ﮔﺮوه ﺳﻨﯽ ﺑﯿﺸﺘﺮﯾﻦ ﻧﻤﻮﻧﻪ در دو ﮔﺮوه 30 ﺗﺎ 39 ﺳﺎل
(50/3درﺻﺪ) و 40 ﺗﺎ 49 ﺳﺎﻟﻪ (43/7 درﺻﺪ) ﻗﺮار داﺷﺘﻪاﻧﺪ.
92/9 درﺻﺪ ﻧﻤﻮﻧﻪ ﻣﺘﺄﻫﻞ و 7/1 درﺻﺪ ﻣﺠﺮد ﺑﻮده اﻧﺪ.
از ﻟﺤﺎظ ﻣﺪرك ﺗﺤﺼﯿﻠﯽ، 5/5 درﺻﺪ ﻓﻮق دﯾﭙﻠﻢ، 78/7 درﺻﺪ ﮐﺎرﺷﻨﺎﺳﯽ و 15/8 درﺻﺪ ﻧﯿﺰ دارای ﻣﺪرك ﮐﺎرﺷﻨﺎﺳﯽ ارﺷﺪ ﺑﻮده اﻧﺪ. از ﻟﺤﺎظ وﺿﻌﯿﺖ
ﻣﺴﮑﻦ 65/6 دارای ﺧﺎﻧﻪی ﺷﺨﺼﯽ ﺑﻮده اﻧﺪ و 29 درﺻﺪ ﭘﺎﺳﺨﮕﻮﯾﺎن ﻧﻮع ﻣﺴﮑﻦ ﺧﻮد را ﻏﯿﺮ ﺷﺨﺼﯽ اﺟﺎرهای، ﺳﺎزﻣﺎﻧﯽ و ... اﻇﻬﺎر ﮐﺮده اﻧﺪ.
در ﻣﻮرد وﺿﻌﯿﺖ اﺳﺘﺨﺪاﻣﯽ 97/8 درﺻﺪ رﺳﻤﯽ و 2/2 درﺻﺪ ﻏﯿﺮ رﺳﻤﯽ ﻗﺮاردادی، آزﻣﺎﯾﺸﯽ ﺑﻮده اﻧﺪ.
ﯾﺎﻓﺘﻪﻫﺎی اﺳﺘﻨﺒﺎﻃﯽ( آزﻣﻮن ﻓﺮﺿﯿﻪﻫﺎی ﺗﺤﻘﯿﻖ)
درﺟﺪول زﯾﺮ آﻣﺎرهﻫﺎی ﻣﺨﺘﻠﻒ ﻣﺮﺑﻮط ﺑﻪ ﻣﺘﻐﯿﺮﻫﺎی واﺑﺴﺘﻪ وﻣﺴﺘﻘﻞ آﻣﺪه اﺳﺖ ﺑﺎﺗﻮﺟﻪ ﺑﻪ ﻧﺘﺎﯾﺞ ﺑﺪﺳﺖآﻣﺪه ﻣﺸﺨﺺ ﮔﺮدﯾﺪ ﮐﻪ ﻣﯿﺰان
رﺿﺎﯾﺖﺷﻐﻠﯽ ﺟﺎﻣﻌﻪ ﻣﻮرد ﻣﻄﺎﻟﻌﻪ 72/6 ﺑﻮده اﺳﺖ.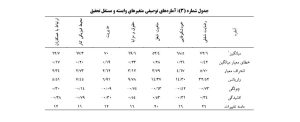 ﺑﺮاﺳﺎس ﺟﺪول ﺷﻤﺎره 4 دﺑﯿﺮان زن از دﺑﯿﺮان ﻣﺮد رﺿﺎﯾﺖ ﺷﻐﻠﯽ ﺑﯿﺸﺘﺮی داﺷﺘﻪ  و اﯾﻦ ﻣﻮﺿﻮع از ﻟﺤﺎظ آﻣﺎری ﻧﯿﺰ ﻣﻌﻨﯽ دار اﺳﺖ.
اﻣﺎ ﻣﯿﺰان رﺿﺎﯾﺖ ﺷﻐﻠﯽ دﺑﯿﺮان ﺑﺮ ﺣﺴﺐ ﻣﺘﻐﯿﺮﻫﺎی زﻣﯿﻨﻪای وﺿﻌﯿﺖ ﺗﺄﻫﻞ، وﺿﻌﯿﺖ ﻣﺴﮑﻦ و وﺿﻌﯿﺖ اﺳﺘﺨﺪاﻣﯽ ﺗﻔﺎوت ﻣﻌﻨﯽ داری ﻧﺪارد.

ﺑﻌﺒﺎرﺗﯽ دﺑﯿﺮان ﻣﺠﺮد و ﻣﺘﺎﻫﻞ ﻣﺎﻟﮏ و ﻏﯿﺮ ﻣﺎﻟﮏ، رﺳﻤﯽ و ﻏﯿﺮ رﺳﻤﯽ از رﺿﺎﯾﺖ ﺷﻐﻠﯽ ﻧﺴﺒﺘﺎ ﻣﺸﺎﺑﻬﯽ ﺑﺮﺧﻮردارﻧﺪ.
ﺑﺎ ﺑﺎﻻ رﻓﺘﻦ ﺳﻦ، ﺳﺎلﻫﺎی ﺧﺪﻣﺖ و ﻣﯿﺰان ﺗﺤﺼﯿﻼت رﺿﺎﯾﺖ ﺷﻐﻠﯽ ﺟﺎﻣﻌﻪ آﻣﺎری ﻣﻮرد ﻣﻄﺎﻟﻌﻪاﻓﺰاﯾﺶ ﻣﯽﯾﺎﺑﺪ.

ﺑﺮاﺳﺎس ﻧﺘﺎﯾﺞ ﺟﺪول ﻓﻮق ﻫﯿﭻﮔﻮﻧﻪ راﺑﻄﻪ  ﺑﯿﻦ ﻣﺘﻐﯿﺮﻫﺎی زﻣﯿﻨﻪای ﺳﻦ، ﺗﺤﺼﯿﻼت، ﺳﺎلﻫﺎی ﺧﺪﻣﺖ و ﻣﯿﺰان رﺿﺎﯾﺖ ﺷﻐﻠﯽ ﻣﺸﺎﻫﺪه ﻧﺸﺪ.
ﺑﯿﻦ ﻣﺘﻐﯿﺮﻫﺎی ﻣﺴﺘﻘﻞ  (ﺧﻮدﺷﮑﻮﻓﺎﯾﯽ، ﻣﺎﻫﯿﺖ ﺷﻐﻞ، ﺣﻘﻮق و ﻣﺰاﯾﺎ، ﻣﺪﯾﺮﯾﺖ، ﻣﺤﯿﻂ ﻓﯿﺰﯾﮑﯽ ﮐﺎر و رواﺑﻂ ﺑﺎ ﻫﻤﮑﺎران) و رﺿﺎﯾﺖ ﺷﻐﻠﯽ راﺑﻄﻪ
وﺟﻮد دارد.

ﻧﺘﺎﯾﺠﯽ ﮐﻪ از آزﻣﻮن ﺿﺮﯾﺐ ﻫﻤﺒﺴﺘﮕﯽ ﺑﺮای ﻣﺘﻐﯿﺮﻫﺎی ﻣﺴﺘﻘﻞ ﺗﺤﻘﯿﻖ ﺑﻪ دﺳﺖ آﻣﺪ ﻋﺒﺎرت اﺳﺖ از:
وﺟﻮد راﺑﻄﻪ ﺑﯿﻦ ﺧﻮدﺷﮑﻮﻓﺎﯾﯽ و رﺿﺎﯾﺖ ﺷﻐﻠﯽ ﺗﺄﯾﯿﺪ ﺷﺪ و ﺷﺪت راﺑﻄﻪ 0/69+ ﺑﻮد ﮐﻪ ﻧﺸﺎن دﻫﻨﺪه وﺟﻮد راﺑﻄﻪ ﻣﺜﺒﺖ ﺑﺎ ﺷﺪت ﻗﻮی ﺑﯿﻦ اﯾﻦ دو ﻣﺘﻐﯿﺮ اﺳﺖ.
ﺑﯿﻦ دو ﻣﺘﻐﯿﺮﻣﺎﻫﯿﺖ ﺷﻐﻞ و رﺿﺎﯾﺖ ﺷﻐﻠﯽ ﻧﯿﺰ وﺟﻮد راﺑﻄﻪ ﺗﺎﯾﯿﺪ وﺷﺪت 0/21+ ﺑﻮده اﺳﺖﮐﻪ ﻧﺸﺎن دﻫﻨﺪهی وﺟﻮد راﺑﻄﻪی ﻣﺜﺒﺖ و ﺑﺎ ﺷﺪت ﻗﻮی ﺑﯿﻦ دو ﻣﺘﻐﯿﺮ اﺳﺖ.
ﺑﯿﻦ دو ﻣﺘﻐﯿﺮ ﺣﻘﻮق و ﻣﺰاﯾﺎ و رﺿﺎﯾﺖ ﺷﻐﻠﯽ ﻧﯿﺰ ﻓﺮض وﺟﻮد راﺑﻄﻪ ﺗﺄﯾﯿﺪ وﺷﺪت راﺑﻄﻪ ﺑﯿﻦ دو ﻣﺘﻐﯿﺮﻣﯽﺑﺎﺷﺪ ﮐﻪ ﻧﺸﺎن دﻫﻨﺪهی وﺟﻮد راﺑﻄﻪی ﻣﻌﮑﻮس و ﺑﺎ ﺷﺪت ﺿﻌﯿﻒ ﺑﯿﻦ دو ﻣﺘﻐﯿﺮ اﺳﺖ. -0/17ﺑﯿﻦ دو ﻣﺘﻐﯿﺮ ﻣﺪﯾﺮﯾﺖ و رﺿﺎﯾﺖ ﺷﻐﻠﯽ ﻓﺮض وﺟﻮد راﺑﻄﻪ ﺗﺎﯾﯿﺪ ﻧﺸﺪ.
ﺑﯿﻦ دو ﻣﺘﻐﯿﺮ ﻣﺤﯿﻂ ﻓﯿﺰﯾﮑﯽ ﮐﺎر و ﻣﯿﺰان رﺿﺎﯾﺖ ﺷﻐﻠﯽ ﻧﯿﺰ ﻓﺮض وﺟﻮد راﺑﻄﻪ ﺗﺄﯾﯿﺪ و ﺷﺪت راﺑﻄﻪ ﺑﯿﻦ دو ﻣﺘﻐﯿﺮ 0/33- ﻣﯽﺑﺎﺷﺪ ﮐﻪ ﻧﺸﺎن دﻫﻨﺪه ی وﺟﻮد راﺑﻄﻪی ﻣﻌﮑﻮس و ﺑﺎ ﺷﺪت ﻣﺘﻮﺳﻄﯽ ﺑﯿﻦ دو ﻣﺘﻐﯿﺮاﺳﺖ.
ﺑﯿﻦ دوﻣﺘﻐﯿﺮ رواﺑﻂ ﺑﺎ ﻫﻤﮑﺎران و رﺿﺎﯾﺖ ﺷﻐﻠﯽ وﺟﻮد راﺑﻄﻪ ﺗﺎﯾﯿﺪ ﺷﺪ وﺷﺪت راﺑﻄﻪ 0/22+ ﻣﯽﺑﺎﺷﺪ.
ﺑﺤﺚ و ﻧﺘﯿﺠﻪﮔﯿﺮی
دراﯾﻦ ﺗﺤﻘﯿﻖ دو ﻫﺪف اﺳﺎﺳﯽ ﻣﻮرد ﻧﻈﺮ ﺑﻮد ﻧﺨﺴﺖ ﺑﺮرﺳﯽ ﻣﯿﺰان رﺿﺎﯾﺖ ﺷﻐﻠﯽ دﺑﯿﺮان ﻣﻮرد ﻣﻄﺎﻟﻌﻪ و دوم ﺷﻨﺎﺳﺎﯾﯽ ﻣﻬﻢﺗﺮﯾﻦ ﻋﻮاﻣﻞ ﻣﻮﺛﺮ ﺑﺮ
رﺿﺎﻣﻨﺪی ﺷﻐﻠﯽ ﻧﻤﻮﻧﻪ ﺗﺤﻘﯿﻖ ﺑﻮد. در راﺑﻄﻪ ﺑﺎ ﻫﺪف ﻧﺨﺴﺖ ﻧﺘﺎﯾﺞ ﺣﺎﮐﯽ از رﺿﺎﯾﺖ ﺷﻐﻠﯽ ﻧﺴﺒﺘﺎً ﻣﻄﻠﻮب ﻧﻤﻮﻧﻪ اﯾﻦ ﺗﺤﻘﯿﻖ دارد.
اﻣﺎ در ﺧﺼﻮص ﻫﺪف دوم در ﺗﺌﻮری ﻫﺎی و ﺗﺤﻘﯿﻘﺎت ﻣﻮرد اﺷﺎره در ﺑﺨﺶ ﻣﺒﺎﻧﯽ ﻧﻈﺮی و ﺗﺠﺮﺑﯽ ﺗﺤﻘﯿﻖ، ﻋﻮاﻣﻞ و ﻣﺘﻐﯿﺮﻫﺎی ﭼﻮن ﺧﻮد ﺷﮑﻮﻓﺎﯾﯽ،
ﻣﺎﻫﯿﺖ ﺷﻐﻞ، ﺣﻘﻮق و ﻣﺰاﯾﺎ، ﻣﺪﯾﺮﯾﺖ، راﺑﻄﻪ ﺑﺎ ﻫﻤﮑﺎران، ﻓﺮﺻﺖﻫﺎی ﭘﯿﺸﺮﻓﺖ، ﻋﺪاﻟﺖ و اﻧﺼﺎف در ﭘﺮداﺧﺖﻫﺎ، ﭼﺎﻟﺸﯽ ﺑﻮدن ﺷﻐﻞ، اﻣﮑﺎﻧﺎت
وﺷﺮاﯾﻂ ﻓﯿﺰﯾﮑﯽ و رﻓﺎﻫﯽ، ﻣﺸﺎرﮐﺖ در ﺗﺼﻤﯿﻢ ﮔﯿﺮیﻫﺎ، ﺟﻨﺴﯿﺖ، ﻣﯿﺰان ﺗﺤﺼﯿﻼت و ... در رﺿﺎﯾﺖ ﺷﻐﻠﯽ ﻣﻮرد ﺗﻮﺟﻪ ﺑﻮد ﮐﻪ ﺑﺮ ﻫﻤﯿﻦ اﺳﺎس
دراﯾﻦﺗﺤﻘﯿﻖ در ﺟﻬﺖ دﺳﺖﯾﺎﺑﯽ ﺑﻪ ﻫﺪف دوم  ﻣﺘﻐﯿﺮ ﻣﺴﺘﻘﻞ و ﻣﺘﻐﯿﺮ زﻣﯿﻨﻪای ﻣﻮرد ﺗﻮﺟﻪ و ﺑﻪ آزﻣﻮن راﺑﻄﻪ آنﻫﺎ ﺑﺎ رﺿﺎﯾﺖ ﺷﻐﻠﯽ ﻧﻤﻮﻧﻪ ﺗﺤﻘﯿﻖ ﭘﺮداﺧﺘﻪﺷﺪ.
ﯾﺎﻓﺘﻪﻫﺎ در راﺑﻄﻪ ﺑﺎ ﻣﺘﻐﯿﺮﻫﺎی زﻣﯿﻨﻪای ﺟﻨﺲ، وﺿﻌﯿﺖ ﺗﺎﻫﻞ، وﺿﻌﯿﺖ ﻣﺴﮑﻦ و وﺿﻌﯿﺖ اﺳﺘﺨﺪاﻣﯽ ﻧﺸﺎن داد ﮐﻪ ﺑﻪ ﺟﺰ در راﺑﻄﻪ ﺑﺎ ﻣﺘﻐﯿﺮ ﺟﻨﺲ در
دﯾﮕﺮ ﻣﺘﻐﯿﺮﻫﺎ ﺗﻔﺎوتﻫﺎ ﻣﻌﻨﺎدار ﻧﺒﻮده اﺳﺖ ﻟﺬا ﺑﺮ اﯾﻦ اﺳﺎس ﻣﯽ ﺗﻮان ﮔﻔﺖ دﺑﯿﺮان ﻣﺠﺮد و ﻣﺘﺎﻫﻞ، رﺳﻤﯽ و ﻏﯿﺮ رﺳﻤﯽ و دارای ﻣﺴﮑﻦ ﺳﺎزﻣﺎﻧﯽ
ﯾﺎ ﺷﺨﺼﯽ از ﻟﺤﺎظ ﻣﯿﺰان رﺿﺎﯾﺖ ازﺷﻐﻞ ﺷﺎن وﺿﻌﯿﺖ ﻣﺸﺎﺑﻬﯽ دارﻧﺪ وﺗﻔﺎوتﻫﺎی ﻣﻼﺣﻈﻪ ﺷﺪه ازﻟﺤﺎظ آﻣﺎری ﻣﻌﻨﯽ دارﻧﯿﺴﺖ، اﻣﺎ دﺑﯿﺮان زن اﯾﻦ
ﺗﺤﻘﯿﻖ رﺿﺎﯾﺖ ﺷﻐﻠﯽﺷﺎن ﺑﯿﺶ از ﻫﻤﮑﺎران ﻣﺮد ﺑﻮده و اﻟﺒﺘﻪ اﯾﻦ ﻧﺘﯿﺠﻪ ﻫﻤﺨﻮان ﺑﺎ ﯾﺎﻓﺘﻪ ﻫﺎی ﺗﺤﻘﯿﻖ ﮐﺎرﯾﻮن ﻣﯽ ﺑﺎﺷﺪ.
آزﻣﻮن ﺿﺮﯾﺐ ﻫﻤﺒﺴﺘﮕﯽ ﭘﯿﺮﺳﻮن ﻧﯿﺰ ﻧﺸﺎن داد ﮐﻪ ﻣﺘﻐﯿﺮﻫﺎی زﻣﯿﻨﻪای ﺳﻦ، ﻣﯿﺰان ﺗﺤﺼﯿﻼت و ﺳﺎلﻫﺎی ﺧﺪﻣﺖ راﺑﻄﻪ ﻣﻌﻨﯽ داری ﺑﺎ
رﺿﺎﯾﺖﺷﻐﻠﯽدﺑﯿﺮان ﻧﺪاﺷﺘﻪاﻧﺪ.
در راﺑﻄﻪ ﺑﺎ ﻣﺘﻐﯿﺮﻫﺎی ﻣﺴﺘﻘﻞ ﺗﺤﻘﯿﻖ ﻧﯿﺰ ﻧﺘﺎﯾﺞ ﻣﻮﯾﺪ اﯾﻦ ﻣﻄﻠﺐ اﺳﺖ ﮐﻪ ﺑﻪ ﺟﺰ ﻣﺘﻐﯿﺮ (ﻣﺪﯾﺮﯾﺖ ) ﺑﻘﯿﻪ ﻣﺘﻐﯿﺮﻫﺎ راﺑﻄﻪ ﻣﻌﻨﺎداری ﺑﺎ رﺿﺎﯾﺖ ﺷﻐﻠﯽ
ﻧﻤﻮﻧﻪ ﺗﺤﻘﯿﻖ داﺷﺘﻪ اﻧﺪ و از ﻟﺤﺎظ آﻣﺎری ﻧﯿﺰ اﯾﻦ راﺑﻄﻪﻫﺎ ﻣﻌﻨﯽ دار ﺑﻮده اﺳﺖ.
ﻣﺘﻐﯿﺮﺧﻮدﺷﮑﻮﻓﺎﯾﯽ ﺑﯿﺸﺘﺮﯾﻦ ارﺗﺒﺎط را ﺑﺎ ﻣﺘﻐﯿﺮواﺑﺴﺘﻪ داﺷﺘﻪ اﺳﺖ.
اﯾﻦ ﻧﺘﯿﺠﻪ راﻣﯽ ﺗﻮان ﺗﺎﯾﯿﺪ ﺗﺌﻮری ﻫﺎی ﻣﺰﻟﻮ، ﺑﺮوﻓﯽ و ﻫﺮزﺑﺮگ داﻧﺴﺖ ﮐﻪ ﻣﻌﺘﻘﺪﻧﺪ ﻫﺮ ﻓﺮدی از داﺷﺘﻦ ﯾﮏ ﺷﻐﻞ ﻋﻼوه ﺑﺮ ﻧﯿﺎزﻫﺎی ﻣﺎدی ﺑﺪﻧﺒﺎل
رﺷﺪ و ﭘﯿﺸﺮﻓﺖ، ﺑﺮوز ﺧﻼﻗﯿﺖ و اﺳﺘﻌﺪادﻫﺎ و ﺑﻌﺒﺎرت ﺷﮑﻮﻓﺎﯾﯽ ﺧﻮد اﺳﺖ ﺑﺎ اﯾﻦ ﻧﺘﯿﺠﻪ ﻣﻬﻢ ﺗﺮﯾﻦ ﻋﺎﻣﻠﯽ ﮐﻪ ﻧﻤﻮﻧﻪ ﺗﺤﻘﯿﻖ ﻧﺴﺒﺖ ﺑﻪ ﺷﻐﻞ ﺧﻮد
اﺣﺴﺎس ﺧﻮﺑﯽ دارﻧﺪ و از آن راﺿﯽ ﻫﺴﺘﻨﺪ ﻫﻤﯿﻦ ﻣﺘﻐﯿﺮ اﺳﺖ.
درﻫﻤﯿﻦ راﺳﺘﺎ آﻣﻮزش و ﭘﺮورش ﺑﺎﯾﺪ درﺟﻬﺖ ﺗﻨﻮع ﺑﺨﺸﯽ وﻏﻨﺎی ﺷﻐﻞ ﻣﻌﻠﻤﯽ و ﻓﺮاﻫﻢ ﻧﻤﻮدن اﻣﮑﺎن ﭘﯿﺸﺮﻓﺖ ﺷﺨﺼﯽ و ﺷﻐﻠﯽ آﻧﺎن ﺗﻼش
ﺑﯿﺸﺘﺮی ﻧﻤﺎﯾﺪ.
ﻣﻮﺿﻮع دﯾﮕﺮ راﺑﻄﻪ ﻣﺘﻮﺳﻂ ﻣﺘﻐﯿﺮ ﻣﺤﯿﻂ ﻓﯿﺰﯾﮑﯽ ﮐﺎر ﺑﺎ رﺿﺎﯾﺖ ﺷﻐﻠﯽ اﺳﺖ اﯾﻦ ﯾﺎﻓﺘﻪ ﻣﻨﻄﺒﻖ ﺑﺎ ﺗﻔﺴﯿﺮ ﺳﺎزﻣﺎﻧﯽ ﻟﻮﺳﯿﺮاز ﺗﺌﻮری ﻣﺰﻟﻮ و ﻧﺘﺎﯾﺞ
ﺗﺤﻘﯿﻖﻣﺮﮐﺰ اﻓﮑﺎرﺳﻨﺠﯽ داﻧﺸﺠﻮﯾﺎن اﯾﺮان اﺳﺖ ﮐﻪ ﺑﺮ ﻧﻘﺶ ﻣﺤﯿﻂ ﻓﯿﺰﯾﮑﯽ ﮐﺎر در رﺿﺎیت ﺷﻐﻠﯽ ﺗﺎﮐﯿﺪ دارﻧﺪ.
ﺑﺎﺗﻮﺟﻪ ﺑﻪ اﯾﻦﮐﻪ ﻧﺎﺣﯿﻪ 5 آﻣﻮزش و ﭘﺮورش ﺷﻬﺮ ﺗﺒﺮﯾﺰ ﻣﮑﺎن اﯾﻦ ﺗﺤﻘﯿﻖ ﻣﺤﺮوم ﺗﺮﯾﻦ ﻧﺎﺣﯿﻪ آﻣﻮزش و ﭘﺮورش اﯾﻦ ﺷﻬﺮ از ﻧﻈﺮ ﻓﻀﺎﻫﺎی آﻣﻮزﺷﯽ،
ﮐﻼسﻫﺎی درس و اﻣﮑﺎﻧﺎت ورزﺷﯽ اﺳﺖ،
اﻗﺪاﻣﺎت ﺑﯿﺸﺘﺮ ﻣﺴﺌﻮﻻن ذیرﺑﻂ از ﺟﻤﻠﻪ:
ﻧﻮﺳﺎزی و ﺗﺠﻬﯿﺰدﺑﯿﺮﺳﺘﺎنﻫﺎی ﻗﺪﯾﻤﯽ و ﺟﺪﯾﺪ ﺑﻪ اﻣﮑﺎﻧﺎت
آﻣﻮزﺷﯽ، ورزﺷﯽ و ﻓﺮﻫﻨﮕﯽ، زﯾﺒﺎﺳﺎزی ﻓﻀﺎﻫﺎی ﻋﻤﻮﻣﯽ ﻣﺪارس از ﻗﺒﯿﻞ ﺣﯿﺎط، ﮐﻼسﻫﺎی درس، راﻫﺮوﻫﺎ و ... و ﺗﻮﺟﻪ ﺑﯿﺸﺘﺮ ﺑﻪ ﻣﺴﺎﺋﻞ
زﯾﺒﺎﯾﯽﺷﻨﺎﺧﺘﯽ دﺑﯿﺮﺳﺘﺎنﻫﺎ ﻣﺎﻧﻨﺪ ﻣﻌﻤﺎری، رﻧﮓ، ﻧﻮرﭘﺮدازی، ﻣﺴﺎﺣﺖ ﮐﻼسﻫﺎ و ﻣﯽ ﺗﻮاﻧﺪ ﻋﻼوه ﺑﺮ اﻓﺰاﯾﺶ رﺿﺎﯾﺖ ﺷﻐﻠﯽ ﻣﻌﻠﻤﺎن در ارﺗﻘﺎء
ﺗﺤﺼﯿﻠﯽ داﻧﺶآﻣﻮزان ﻧﯿﺰ ﻣﻮﺛﺮ واﻗﻊ ﺷﻮد.
راﺑﻄﻪ و ﺗﻌﺎﻣﻞ ﺑﺎ ﻫﻤﮑﺎران ﺳﻮﻣﯿﻦ ﻣﺘﻐﯿﺮ ﻣﺴﺘﻘﻠﯽ اﺳﺖ ﮐﻪ ﺑﺎ رﺿﺎﯾﺖ ﺷﻐﻠﯽ راﺑﻄﻪ ﻣﻌﻨﺎداری داﺷﺘﻪ اﺳﺖ.
اﯾﻦ ﯾﺎﻓﺘﻪ ﻋﻼوه ﺑﺮ اﯾﻦﮐﻪ ﻫﻤﺨﻮان ﺑﺎ ﺗﻔﺴﯿﺮ ﻟﻮﺳﯿﺮ ازﺗﺌﻮری ﻣﺰﻟﻮ در ﺑﻌﺪ اﺟﺘﻤﺎﻋﯽ اﺳﺖ ﺗﺎﯾﯿﺪ ﻧﺘﯿﺠﻪ-ای اﺳﺖ ﮐﻪ ﮐﯿﻦ  در ﺗﺤﻘﯿﻘﺎت ﺧﻮد ﺑﻪ آن
رﺳﯿﺪه اﻧﺪ.
ﺑﺎ ﺗﻮﺟﻪ ﺑﺎ اﯾﻦ ﻧﺘﯿﺠﻪ ﺑﻪ ﻫﺮ ﻣﯿﺰان ﮐﻪ ﺳﺎزﻣﺎن آﻣﻮزش و ﭘﺮوش اﯾﻦ ﻧﺎﺣﯿﻪ در ﺗﻘﻮﯾﺖ ﻫﻤﮑﺎری و ﺗﻌﺎﻣﻞ دﺑﯿﺮان اﯾﻦ ﻧﺎﺣﯿﻪ ﺑﮑﻮﺷﺪ ﺑﺎﻋﺚ اﻓﺰاﯾﺶ رﺿﺎﯾﺖ
دﺑﯿﺮان از ﺷﻐﻞ ﺷﺎن ﺧﻮاﻫﺪ ﺷﺪ
اﻗﺪاﻣﺎت ﭘﯿﺸﻨﻬﺎدی در اﯾﻦ ﺧﺼﻮص ﻋﺒﺎرﺗﻨﺪ از:
ﺑﺮﮔﺰاری ﺳﻔﺮﻫﺎ و اردوﻫﺎی دﺳﺘﻪ ﺟﻤﻌﯽ و ﺧﺎﻧﻮادﮔﯽ، ﺑﺮﮔﺰاری ﺟﺸﻦﻫﺎ و ﻣﺮاﺳﻢ ﺳﺎزﻣﺎﻧﯽ، ﺳﺎزﻣﺎﻧﺪﻫﯽ و ﺗﺸﮑﯿﻞ ﺗﯿﻢﻫﺎی ورزﺷﯽ و ﺗﺸﻮﯾﻖ
ﮐﺎرﻫﺎی ﮔﺮوﻫﯽ.
ﻣﺎﻫﯿﺖ ﺷﻐﻞﭼﻬﺎرﻣﯿﻦ ﻣﺘﻐﯿﺮ ﺗﺎﺛﯿﺮﮔﺬار ﺑﺮرﺿﺎﯾﺖ ﺷﻐﻠﯽ ﻧﻤﻮﻧﻪ اﯾﻦ ﺗﺤﻘﯿﻖ ﺑﻮده اﺳﺖ.
دراﯾﻦ ارﺗﺒﺎط ﺗﻼش آﻣﻮزش و ﭘﺮورش درﺑﺎﻻ ﺑﺮدن ﺟﺎﯾﮕﺎه وارزش اﺟﺘﻤﺎﻋﯽ ﺷﻐﻞ ﻣﻌﻠﻤﯽ، ﺗﻨﻮع ﺑﺨﺸﯽ ﺑﻪ آن ﻣﯽ ﺗﻮاﻧﺪ ﺑﺎﻋﺚ اﻓﺰاﯾﺶ رﺿﺎﯾﺖﻣﻨﺪی
ﺑﯿﺸﺘﺮ دﺑﯿﺮان از ﺷﻐﻞ ﺷﺎن ﺷﻮد.
ﺣﻘﻮق و ﻣﺰاﯾﺎ از ﻣﻬﻢﺗﺮﯾﻦ ﻣﺘﻐﯿﺮﻫﺎی اﺳﺖ ﮐﻪ در رﺿﺎیتمندی ﺷﻐﻠﯽ اﻓﺮاد از ﺷﻐﻞ ﺷﺎن ﻣﻮﺛﺮ اﺳﺖ اﯾﻦ ﻧﺘﯿﺠﻪ در اﯾﻦ ﺗﺤﻘﯿﻖ دﯾﺪه ﺷﺪه و ﻣﺸﺨﺺ
ﺷﺪﮐﻪ ﺑﺎ اﻓﺰاﯾﺶ ﺣﻘﻮق و ﻣﺰاﯾﺎﯾﯽ ﻧﻤﻮﻧﻪ ﺗﺤﻘﯿﻖ رﺿﺎﯾﺖ ﺷﺎن از ﺷﻐﻞ ﺷﺎن اﻓﺰاﯾﺶ داﺷﺘﻪ اﺳﺖ.
در ﻧﻈﺮﯾﻪ ﺑﺮاﺑﺮی آداﻣﺰ زﻣﺎﻧﯽ ﮐﻪ ﮔﻔﺘﻪ ﻣﯽ ﺷﻮد ﻫﺮ ﻓﺮدی ﺑﯿﻦ داده و ﺳﺘﺎده ﺧﻮد در ﺳﺎزﻣﺎن ﻣﺤﻞ ﮐﺎرش ﻣﻘﺎﯾﺴﻪ ﻣﯽ ﮐﻨﺪ اﺷﺎره ﺑﻪ ﻫﻤﯿﻦ ﻣﻮﺿﻮع
دارد و ﻧﯿﺎزﻫﺎی ﻓﯿﺰﯾﻮﻟﻮژﯾﮏ ﻣﺰﻟﻮ ﺑﻪ ﻋﻨﻮان ﭘﺎﯾﻪایﺗﺮﯾﻦ ﻧﯿﺎز اﻧﺴﺎن ﺗﺎﮐﯿﺪ ﺑﺮ ﻫﻤﯿﻦ ﻣﻮﺿﻮع اﺳﺖ.
ﻫﻢﭼﻨﯿﻦ ﻧﺘﯿﺠﻪ اﯾﻦ ﺗﺤﻘﯿﻖ در راﺑﻄﻪ ﺑﺎ ﺗﺎﺛﯿﺮ ﺣﻘﻮق و ﻣﺰاﯾﺎ در اﻓﺰاﯾﺶ رﺿﺎﯾﺖ ﺷﻐﻠﯽ درﺗﺤﻘﯿﻘﺎت اﺳﻤﯿﺖ ﻧﯿﺰ دﯾﺪه ﻣﯽ ﺷﻮد.
در راﺑﻄﻪ ﺑﺎ اﯾﻦ ﻣﻮﺿﻮع ﭘﯿﺸﻨﻬﺎد ﻣﯽ ﺷﻮد ﮐﻪ ﺗﻼش ﺑﯿﺸﺘﺮی ﺻﻮرت ﮔﯿﺮد ﺗﺎ ﺣﻘﻮق درﯾﺎﻓﺘﯽ دﺑﯿﺮان در ﺣﺪ ﻣﯿﺎﻧﮕﯿﻦ ﮐﺎرﻣﻨﺪان ﺳﺎﯾﺮ ادارات دوﻟﺘﯽ ﻗﺮار
ﮔﯿﺮد و ﺗﻨﺎﺳﺒﯽ ﺑﯿﻦ ﺗﻮرم ﻣﻮﺟﻮد و ﺣﻘﻮق درﯾﺎﻓﺘﯽﺷﺎن ﺑﺮﻗﺮار ﮔﺮدد، ﺣﻤﺎﯾﺖﻫﺎی ﻣﺎﻟﯽ و ﻏﯿﺮ ﻣﺎﻟﯽ ﻣﺴﺘﻘﯿﻢ و ﻏﯿﺮ ﻣﺴﺘﻘﯿﻢ دﯾﮕﺮ، اﻓﺰاﯾﺶ ﻣﺰاﯾﺎی
ﺟﺎﻧﺒﯽ دﯾﮕﺮ ﻣﺎﻧﻨﺪ اﻧﻮاع ﺑﯿﻤﻪﻫﺎ، ﺧﺎﻧﻪﻫﺎی ﺳﺎزﻣﺎﻧﯽ، ﺑﻦﻫﺎی ﮐﺎرﻣﻨﺪی ﻣﯽ ﺗﻮاﻧﺪ ﺑﺎﻋﺚ ﺷﻮد ﺗﺎ اﯾﻦ ﻗﺸﺮ ﺗﺎﺛﯿﺮﮔﺬار اﺣﺴﺎس ﻣﺜﺒﺖﺗﺮ ﻧﺴﺒﺖ ﺑﻪ ﺷﻐﻞ
ﻣﻌﻠﻤﯽ داﺷﺘﻪ ﺑﺎﺷﺪ و در ﻧﺘﯿﺠﻪ ﺗﻼش ﻣﻀﺎﻋﻔﯽ در ﺟﻬﺖ ﺗﻌﻠﯿﻢ و ﺗﺮﺑﯿﺖ ﻓﺮزﻧﺪان اﯾﻦ ﻣﺮز و ﺑﻮم از ﺧﻮد ﻧﺸﺎن دﻫﻨﺪ.
ﻣﻨﺎﺑﻊ
اﯾﺴﭙﺎ واﺣﺪ ﻣﺮﮐﺰ 1382 ﺑﺮرﺳﯽ ﻣﯿﺰان رﺿﺎﯾﺖ ﺷﻐﻠﯽ ﮐﺎرﮐﻨﺎن ﺑﺎﻧﮏ ﺻﻨﻌﺖ و ﻣﻌﺪن. ﻣﻨﺘﺸﺮ ﻧﺸﺪه.
ﺑﺨﺘﯿﺎری ﻧﺼﺮآﺑﺎدی، ح. 1388. ﺑﺮرﺳﯽ راﺑﻄﻪی ﺑﯿﻦ ﻣﺎﻫﯿﺖ ﺷﻐﻞ و رﺿﺎﯾﺖ ﺷـﻐﻠﯽ در ﺷـﺮﮐﺖ ذوب آﻫـﻦ اﺻـﻔﻬﺎن.
ﭘـﮋوﻫﺶ ﻧﺎﻣـه  ﻣﺪﯾﺮﯾﺖ اﺟﺮاﯾﯽ. ﺳﺎل ﻧﻬﻢ، ﺷﻤﺎره 1، ﭘﯿﺎﭘﯽ33 ﺻﺺ 57-76.
ﺳﺎﻋﺘﭽﯽ، م. 1387 ﺑﺮرﺳﯽ راﺑﻄﻪی ﻣﯿﺎن اﻧﮕﯿﺰهی ﺷﻐﻠﯽ ﻣﺪﯾﺮان، رﺿﺎﯾﺖ ﺷﻐﻠﯽ و ﺗﻌﻬﺪ ﺳﺎزﻣﺎﻧﯽ دﺑﯿﺮانﻣﻘﻄﻊ ﻣﺘﻮﺳـﻄﻪ ی ﺷﻬﺮﺳـﺘﺎن  ﻣﺮودﺷﺖ.
ﻓﺼﻠﻨﺎﻣﻪ رﻫﯿﺎﻓﺘﯽ ﻧﻮ در ﻣﺪﯾﺮﯾﺖ آﻣﻮزش. ﺳﺎل اول، ﺷﻤﺎره دوم، ﺻﺺ 147-168.
ﺳﺮﻧﺪی، پ؛ و دﯾﮕﺮی 1385 ﺑﺮرﺳﯽ ﺗﺎﺛﯿﺮ ﻋﻮاﻣﻞ دروﻧﯽ و ﺑﯿﺮوﻧﯽ ﺑﺮ رﺿﺎﯾﺖ ﺷـﻐﻠﯽ و ﺳـﻼﻣﺖ ﺟﺴـﻤﺎﻧﯽ ﮐﺎرﮐﻨـﺎن
ﺷﺮﮐﺖ ﮔﺎز اﺳﺘﺎن آذرﺑﺎﯾﺠﺎنﺷﺮﻗﯽ. ﻣﻨﺘﺸﺮ ﻧﺸﺪه.
ﺷﻔﯿﻊ آﺑﺎدی، ع. 1369. راﻫﻨﻤﺎﺋﯽ و ﻣﺸﺎوره ﺷﻐﻠﯽ و ﺣﺮﻓﻪای و ﻧﻈﺮﯾﻪﻫﺎی اﻧﺘﺨﺎﺑﺎت ﺷﻐﻞ. ﺗﻬﺮان: اﻧﺘﺸﺎرات رﺷﺪ.
ﮔﺮﯾﻔﯿﻦ، م. 1374 رﻓﺘﺎر ﺳﺎزﻣﺎﻧﯽ. ﺗﺮﺟﻤﻪ: س، م، اﻟﻮاﻧﯽ و دﯾﮕﺮی. ﺗﻬﺮان: اﻧﺘﺸﺎرات ﻣﺮوارﯾﺪ.
ﻣﺪﯾﺮﯾﺖ ﻣﻨﺎﺑﻊ اﻧﺴﺎﻧﯽ و رواﺑﻂ ﮐﺎر. ﺗﻬﺮان: اﻧﺘﺸﺎرات ﻣﯿﺮ.1379ﻣﯿﺮﺳﭙﺎﺳﯽ، ن
رﻓﺘﺎر ﺳﺎزﻣﺎﻧﯽ، ﻣﻔﺎﻫﯿﻢ، ﻧﻈﺮﯾﻪﻫﺎ، ﮐﺎرﺑﺮدﻫﺎ. ﺗﺮﺟﻤﻪ: ع، ﭘﺎرﺳـﺎﺋﯿﺎن و  دﯾﮕـﺮی.  ﺗﻬـﺮان: دﻓﺘـﺮ ﭘـﮋوﻫﺶ   ﻫـﺎی1377راﺑﯿﻨﺰ، ا، پ
ﻓﺮﻫﻨﮕﯽ.
ﭘﺎﯾﻪﻫﺎی ﭘﮋوﻫﺶ در ﻋﻠﻮم رﻓﺘﺎری. ﺗﻬﺮان: اﻧﺘﺸﺎرات ﻓﺮﻫﻨﮓ.1371ﻫﻮﻣﻦ، ج
منابع انگلیسی
Cain, J. M. & Schulkin, J. (Eds). (2001). Effects of perceptions and mentorship on pursuing
a career in academic medicine in obstetrics and gynecology. Journal of Academic Medicine. 76 (6): 628-34.
Cam, O. (2001). The burnout in nursing academician in Turkey. International Journal of
nursing studies. Vol: 38, 201- 207.
Carayon, P. & Honokker, P. (2003). Job characteristic and quality of working life in the
IT workforce: The role of gender. ACM SIGMIS CPR Conference. Edited by E. Trauth, April 10-12, 2003, Philadelphia, Pennsylvania, pp: 58-63.
Desantis, V. & Durst, S. (1996). Comparing job satisfaction among public and private
sector Employees. American Review of public Administration. Vol: 26, (3): 327. Easom, A, K. (2000). Nephrology APNs: who are we and what do we do? Survey results
October 1999 Nephrol Nurs J. 2000 Apr; 27(2):187-91.
Flanagan NA, Fianagan TJ. An analysis of the relationship between job satistfaction and
job strees in correction nurses. Research in Nursing & Health.Vol: 25 (4):282–294.
Palepu, A. & Friedman, R, H. (Eds). (1998). junior faculty members' mentoring
relationships and their professional development in U.S Medical schools. Journal of Academic Medicine; 73(3): 318-23.
Siegel, P. A, Post, C. Brockner, J. Fishman, A. Y. Garden, C. (2005). The moderating
influence of procedural fairness on the relationship between work-life conflict and organizational commitment. Journal of Applied Psychology. 90 (1): 13-24.
Smith,T. J, Girtman J, Riggins J. (2001). Why academic divisions of hematology/oncology
are in trouble and some suggestions for resolution. Journal of Clinical Oncolology. 19 (1): 260-4.
Wild, P. Parsons, V& Dietz, E. (2006). Nurse practitioner's characteristics and job satisfaction. Journal of the American Academy of Nurse Practitioners. 18 (11):